With the best pre-workout for women you can maximize the effectiveness of your workouts. The health and fitness industry has reached a new peak in recent years. Now that you have access to various supplements.
Pre-workout supplements can help you get that additional push you need to get the most out of your exercise and gain significant improvements in your body over time.
A pre-workout supplement could be valuable to those just starting in the gym or who have been training for a while and feel their development has stalled.
There are several advantages of taking a pre-workout supplement, ranging from improved physical and mental health to increased stamina, strength and endurance.
Pre-workouts are great supplements for both sexes. However, some women prefer a leaner pre-workout mix, or a different collection of nutrients, while others prefer a complete pre-workout supplement.
Let's have a look at some of the best pre-workout supplements available for women.
What Is a Pre-workout Supplement?
A pre-workout supplement is a mixture of minerals, vitamins, amino acids and nutrients that will enhance your fitness.
It will boost your energy and helps you perform better during your workouts. They are beneficial when used before going to the gym or undertaking a training session.
Pre-workout supplements contain different amounts and types of ingredients, including caffeine and creatine. These may help to shorten the time it takes to get exhausted when doing a workout.
You can also add other components like beta-alanine and minerals, which will help you stay energized during your exercise.
Pre-Workout for Women: Key Ingredients
Pre-workout supplements aid the execution of your training routine and the achievement of your fitness objectives.
When it comes to pre-workout supplements, the dosage for women should be moderate to low. Your pre-workout supplement may include the following ingredients.
Beta-Alanine: Beta-alanine raises the amounts of carnosine in the muscles, which is essential for preventing muscular tiredness and maintaining muscle strength. Supplements containing beta-alanine are popular among athletes and health enthusiasts. This is because it has been demonstrated to improve performance and health in general.
Creatine: Creatine aids in the production and circulation of adenosine triphosphate (ATP), a molecule responsible for releasing energy required for muscular contractions. Creatine can boost your strength, contribute to an increase in lean muscle mass, and assist muscles in recovering from exercise more rapidly.
Caffeine: A pre-workout supplement that contains caffeine can offer you an energy boost before you begin your exercise. It shortens response times and boosts your level of alertness and attention, all of which are beneficial for your health. Caffeine is an excellent pre-workout substance that best works if consumed about one to two hours before training.
BCAA: BCAAs are necessary amino acids – your body cannot produce them by itself. Consuming them before training will helps your muscles get the nourishment they need to perform hard for a long time. To lessen the degree and length of muscle soreness, taking BCAA's before your exercise can aid in decreasing enzymes that damage muscle.
L-Citrulline: L-Citrulline helps you get ready for intense pumping sessions. Our bodies can convert this essential amino acid into L-arginine, a component of nitric oxide that aids in the maintenance of proper blood vessel functioning. Citrulline will enhance exercise performance by increasing muscle oxygenation.
Pre-workout Differences in Male and Female
Pre-workout products for men and women may have some differences. This is because women have significantly less testosterone than males, making it more challenging for women to gain muscle than men. As a result, certain pre-workout supplements may be more beneficial to women than men.
Pre-Workout for Men
Pre-Workout for Women
Drug Interaction
2-3 servings before a workout with a high dosage
Two servings before a workout with moderate to lower dosage
Ingredients
Caffeine
Creatine
Beta-Alanine
BCAA
Vitamin C
L-Citrulline
Caffeine
L-Glutamine
Beta-Alanine
Biotin
Vitamin C
Chromium
Benefits
Enhances endurance
Improves strength
Quick recovery from soreness
Improves metabolism
Improves concentration
Enhances the immune system
Difference Between Pre-Workout for Men and Women
Pre-workout for Women: Is There Any Side Effects?
Utilizing pre-workout is entirely risk-free and legal. When used as intended, the ingredients in pre-workout compositions are unlikely to produce adverse effects.
However, if you take more than advised, you may exceed the quantity considered safe to consume daily. When it comes to pre-workouts, some of them cause tingling. Don't worry about it if you're experiencing this reaction after taking beta-alanine.
Pre-workout supplements have been a favourite for athletes for some years now. Studies have shown that the supplement has no adverse health effects when used in moderation.
How to choose the Best Pre-workout Supplement for Women
Pre-workout supplements are an excellent way to boost endurance, strength, and stamina. It offers several advantages, many of which are extremely important for your health.
Nevertheless, not all dietary supplements are the same. The following are some aspects to take into consideration when choosing pre-workout for women.
Ingredients: A product's ingredient list should be reviewed to verify it contains ingredients that have been shown to be effective and safe. Certain components aid women in gaining the additional power they need for their workouts.
Fitness Objectives: Make sure that you are aware of the ultimate objective of your effort. Pre-workout supplements often include a wide variety of active substances, each of which may benefit you in a specific manner. To choose the ideal pre-workout supplement for your needs, you must first determine what those needs are.
Allergens: If you are lactose intolerant or allergic to dairy or gluten, be careful to double-check the list of ingredients before using a pre-workout supplement.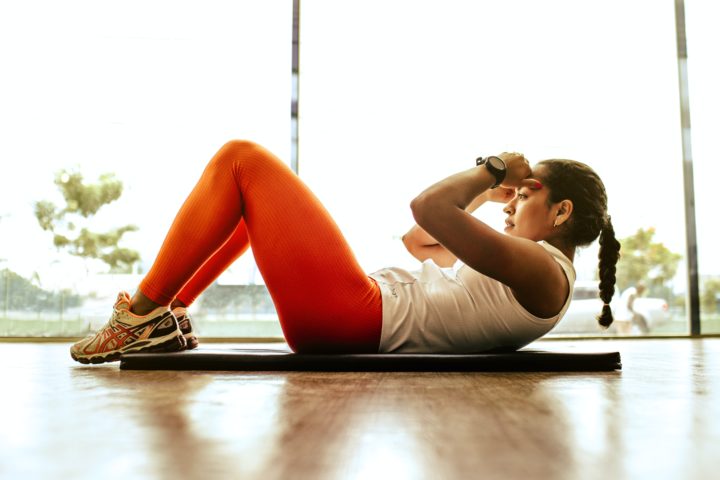 Best Pre-workout Supplements for Women
Pre-workout supplements might be helpful to you if you are new to working out and are looking for a way to enhance your energy levels. In this article, we discuss some excellent pre-workout supplements for women, which will not only help you enhance your performance but also improve your overall health.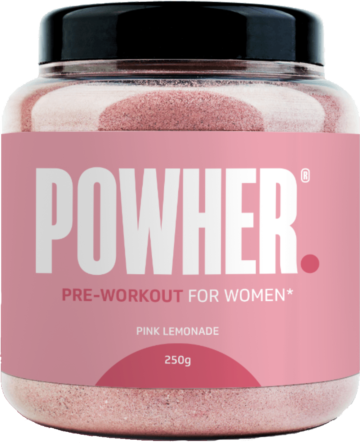 The innovative mix of Powher gives you a potent energy boost to fuel your workouts without the restless side effects of too much caffeine.
With a moderate amount of caffeine, this pre-workout supplement is well-balanced between scientifically proven ingredients and newer, experimental components.
The pre-workout powder contains a variety of minerals and other naturally occurring components that help to improve endurance. It assists women in keeping their strength and endurance at a consistent level during workouts.
Powher is manufactured to high-quality standards, so you do not need to be concerned about its effectiveness and safety. Every single container is manufactured in either FDA or BRC certified facilities, ensuring that the final pre-workout you get is both effective and risk-free.
Pros:
Moderate caffeine level.
Provides hydration balance.
Reduces exhaustion and fatigue.
Enhanced stamina and endurance level.
Cons: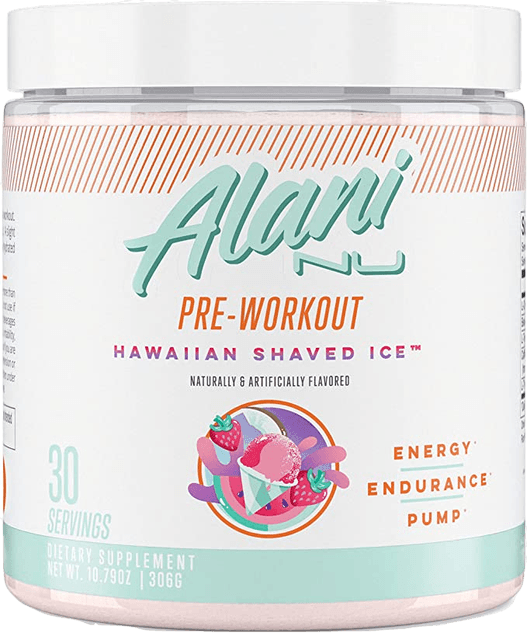 Alani's popularity has increased thanks to its wide variety of exotic tastes, including Rainbow Candy, Carnival Candy Grape and Hawaiian Ice.
You get both simplicity and flavour in one product with this pre-workout. In addition to caffeine, L-theanine and L-citrulline, each serving includes 1.6 grams of beta-alanine to promote energy, alleviate caffeine problems and improve blood flow. This is an excellent pre-workout for all female athletes.
This pre-workout has just the essential elements and none of the unnecessary additions. They include L-citrulline malate, beta-alanine, L-tyrosine (as well as caffeine and L-theanine). That's all there is to it!
This is the solution for you if you're looking for a pre-workout supplement that doesn't need you to wade through a lengthy list of components.
Pros:
Available in 11 flavours.
Vegan-friendly ingredients.
Tested in certified labs.
Improves focus and concentration.
Cons:
Not suitable for people aged 15 or below.
Not recommended for pregnant women.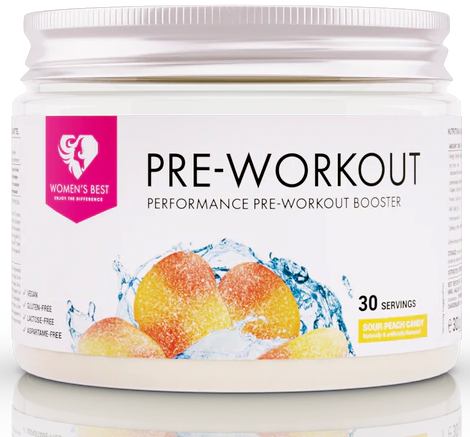 Founded in Europe and with a present headquarters in Austria, Women's Best sells items specifically geared at women all around the globe. Women's Best Pre-Workout Booster can transform dull workouts into rigorous training sessions.
It all comes down to strategically using critical components at the appropriate moment. This pre-workout supplement gives you energy for the day and helps you grow muscle mass.
Pros:
Muscle pumps and mental attention are boosted.
High stamina in workouts.
Improved strength and endurance.
Enhances concentration and mental health.
Cons:
Not available in third-party stores.
Not suitable for pregnant women
Pump Surge is a medically prescribed pre-workout supplement that is unlike anything else on the market. However, in contrast to the vast majority of pre-workout supplements, Pump Surge does not include any kind of caffeine. It depends on ergogenic and cognition-enhancing nootropic substances in high doses.
Pump Surge pre-workout has fantastic ingredients like L-Citrulline, Taurine and Betaine that will help to increase nitric oxide production and increase blood flow to the muscles throughout your exercise. Women can get a boost in their stamina and endurance.
Women athletes seeking a product that is uncomplicated and doesn't exaggerate the effects of any of its components will find this to be an excellent choice.
When it comes to pre-workouts, Pump Surge is a perfect choice for individuals who are on a limited budget and still want a product that has a few of the most popular ingredients.
Pros:
Stimulant free formula.
Enhanced strength and power.
No artificial colour or chemical.
Endurance booster without caffeine.
Cons:
Straightforward ingredients list.
Should not be used by people aged 15 or below.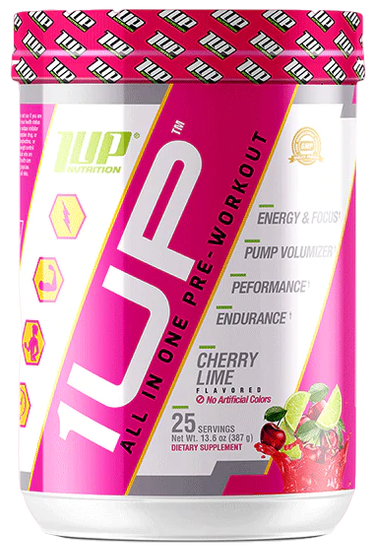 A popular pre-workout for women is 1UP Pre-Women, a pre-workout that caters to women's unique requirements and preferences.
This pre-workout supplement increases mental clarity, physical endurance, muscular pump and stamina. 1UP Pre-Women is formulated particularly for women, using components that have been precisely developed to meet their needs.
This pre-workout can provide women athletes with the extra energy they need to exercise at a higher intensity and longer time, leading to more significant gains and better endurance.
It includes large amounts of nine distinct compounds, including L-Citrulline, Beta-Alanine, Caffeine, Nitrosigine and others. The dosage is 17 grams and allows for a lot of space for the components to be adequately dosed.
Pros:
Maximizes ketone energy.
Boosts stamina, productivity and concentration.
Athletes benefit from increased stamina and power.
Rapidly improve your muscle mass and strength.
Cons:
Do not blend it with other extra substances.
Not suitable for below people aged 17 or below.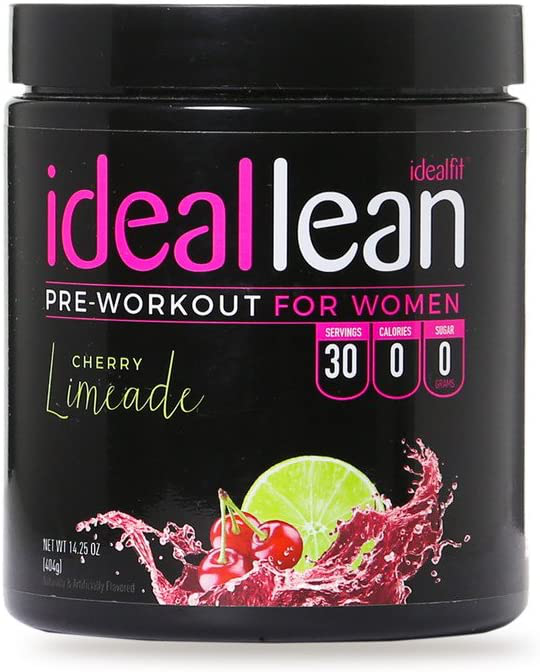 Forget about being drained of all energy, drive and concentration throughout your workouts. Taking your workouts to a new level of intensity is what Ideal Lean Pre-Workout was designed to do.
This pre-workout has an exclusive Ideal Lean Fat-Loss Mixture and fantastic ingredients to help women get the best out of their workouts in the gym.
Taking Ideal Lean Pre-Workout will assist you in training for more extended periods, allowing you to put more effort and get more out of each training session.
Your energy levels will rise, your muscles will pump, your endurance will increase, and many other benefits will become apparent as soon as you start your supplement.
Pros:
Improved endurance.
Enhanced intra-workout pump.
Boosts mental and physical stamina.
Many new flavours are available.
Cons:
Not suitable for pregnant women.
Only available on their official website.
Frequently Asked Questions: Best Pre-Workout for Women
What is a Pre-Workout Supplement?
Supplements that assist improve workout performance are known as pre-workout supplements. Pre-workout supplements may come in various forms, but in their most basic form they serve the same purpose.
How does Pre-Workout supplement work?
When you exercise, the ingredients in pre-workout help boost blood flow, which delivers more oxygenated blood to your muscles. This enables you to power through challenging repetitions, lift more weight, and keep your technique intact throughout your training.
Can women use Pre-Workout?
Yes! Pre-workout supplements are safe for women of all ages to utilize. The advantages of pre-workouts for women who train are numerous. Pre-workout supplements are undeniably a time-saving approach to receiving the essential nutrients you need without interrupting your hectic routine.
What does creatine do for Women?
It has been proved that creatine can assist women in attaining a leaner physique by maintaining more significant amounts of energy throughout strenuous physical activity, such as high-intensity training or sprinting.
Does Pre-Workout for women have any side effects?
Some women ask whether pre-workout pills are safe for them to use. In order to maximize your exercise, pre-workout supplements are essential. You don't have to be concerned about their safety as they are created with just FDA-approved ingredients.
Our Final Thoughts
Pre-workout supplements boost the desire to work out at a high level. They can help women work out for longer.
You'll notice greater strength, more endurance and less discomfort as a result of intense physical exercise. Take advantage of your workouts by following our tips!
Related Posts: