Obstacle Course Racing (OCR) has been utilized historically as mental and physical military training, with competitors completing demanding tasks including swimming in freezing water, carrying sandbags and wading through mud.
Spartan Race, Tough Mudder, Total Warrior, Mudstacle and Relentless Suffering are just a few obstacle course races that have become increasingly popular in the United States.
Obstacle course competitions need a combination of physical endurance and quick bursts of high-intensity exertion that engage several energy systems.
Your body experiences ongoing stress when working on these qualities. On that basis, it needs dietary and supplemental support to continue operating at a high level.
Obstacle Course Racing: What Is It?
Obstacle Course Racing, also known as Mud Run and Adventure Racing, is one of the fastest-growing sports worldwide. Competitors must finish a course while often running and overcoming various obstacles that test their stamina, quickness, agility, durability and mental strength.
Obstacles might include scaling tall walls, ducking through nets and barbed wire, swinging over monkey bars, dragging large sandbags, navigating through water, jumping through flames and sliding down slides.
Obstacle Course Racing is a diverse sport that welcomes both novices of all ages and skill levels and also professional competitors. For entry-level races, the competitions will last between 45-60 minutes, and preparation for them may include middle-distance running and gaining overall performance, specifically shoulder and arm strength.
Most competitors, especially those newbies to the sport, get more satisfaction when they compete as a team, while participants can select to attend events alone.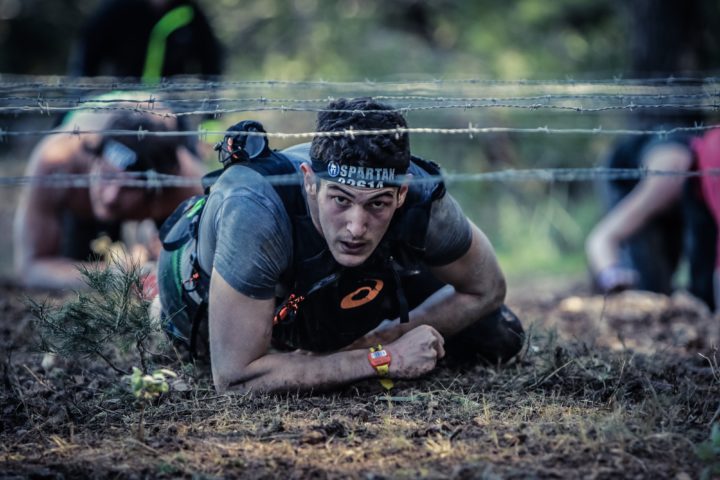 Considerations For Exercise and Diet Plan Before an Obstacle Race
We utilize carbohydrates as our main fuel when performing anaerobic exercises like hill sprints, wall climbs, heavy weightlifting, etc. However, we use fat when performing aerobic exercises like mild jogging, strolling, and breathing.
Protein is not at all necessary during a race or a demanding training session. After exercising, protein is consumed with extra carbs and fat to aid in muscle development and repair.
An exceptional athlete, whose practice is considered more frequent and intense, will require different nutrition throughout training. Optimal hydration must be attained before the race starts, especially during the days preceding the event, to minimize stomach discomfort and an excessive urge to urinate.
Training diet for a beginner should consist of nutrient-dense carbs, high-quality lean proteins spaced out regularly throughout the day, and essential fats such as oily salmon, nuts, peanuts, and avocados.
Like the previous recommendations, an elite athlete's diet will still require appropriate nutrition for training. Still, planning will need to be focused more on total energy intake to handle the training load.
Training for Obstacle Races
Obstacle-course races require specialized training, much like marathons and triathlons do. However, the skill set is radically different. Obstacle racing puts all participants on a level playing field. You'll need to be physically fit all over to succeed.
Obstacle course competitions, particularly the Obstacle Course Racing Championships, need competitors committed to demanding but well-balanced training schedules.
We'll cover some examples of training drills and courses in the future. Still, for now, we wanted to ensure that we included more detailed advice about training schedules, kinds, variance, and most significantly, resting.
All athletes who compete in obstacle courses need a strategy for their training programs and race schedule. We advise keeping track of all your races on a calendar.
You will receive all information that you require from a skilled instructor. The dedication, drive, desire, and, most importantly, the patience to believe in the process and program are all required, and an ideal coach can help boost them. The greatest method to discover a decent coach is to speak with the finest athletes in your field to determine who they work with or suggest.
Even though rest is crucial, competitive athletes frequently neglect it in their quest for success. Rest enables your body to recover, grow and prepare for race day at the top of your game. In addition, these rest periods will allow you to perform at a greater level in training sessions if your exercise is at the proper level.
Best Pre-Workout Supplements for OCRs (Obstacle Course Racing)
It might be difficult to select the ideal pre-workout supplement for obstacle course racing as they are a unique set of activities. Therefore, we place high importance on components with a track record of scientific study and clinical validation while searching for the finest pre-workout supplements. We have tested dozens of pre-workout supplements, from the most well-known names to the newest up-and-comers, to identify the best pre-workout supplements for OCR.
Perform Elite contains effective dosages of substances that assist various performance elements in obstacle course racing and is created exclusively for endurance exercise, not gym junkies. Perform Elite has a combination of caffeine, ancient peat and apple extracts to increase endurance and energy. Based on seven criteria – nutrition label transparency, substances, dose, statements, scientific grade and ranking – it received a general thumbs-up endorsement.
Promix Pre-Workout manufacturers concentrated their efforts on science-backed amino acids and natural components that have been demonstrated to promote performance and increase recovery in OCRs. Promix's pre-workout supplements have undergone independent testing and are NSF International Certified for Sport, assuring that they are devoid of any ingredients restricted by significant sporting associations.
The healthiest pre-workout supplement you can take is the one that consists of an energy boost and gives you the endurance you need. Nutrabay ought to be the place to start when you're a newbie in pre-workout supplementation. A Nutrabay Gold Spark Pre-Workout shake consumed before exercise will hasten the healing process, promote muscular development, and lessen discomfort.
Swolverine's pre-workout is a professionally medicated, non-stim pre-workout formulation that blends vital superfoods rich in antioxidants with top-notch sports nutrition. This organic pre-workout supplement contains tried-and-true components like Citrulline Malate, Beta-Alanine, L-Carnitine, and nutrient-dense superfoods like Pomegranate, Betaine Anhydrous, Coconut and Ginseng. You can push harder and accomplish to your maximum potential with this pre-workout supplement.
Conclusion
To participate in an OCR, you'll need stamina, upper-body strength, muscular balance, and, most notably, toughness. Therefore, you should constantly be on top of your diet and exercise routine before using supplements. How successfully you compete and execute on race day will mostly depend on these two factors.
In addition, to prevent overexertion of exhaustion after long-distance activities like OCR racing, restoring your carbohydrate stores is crucial. For these times, the pre-workout supplements suggested above may be the best choice.
RELATED POSTS: