Alpha Lion is one of the top supplement companies on the market, so we had to check out their Superhuman Extreme Pre-Workout. With names like Grapezilla, Hulk Juice, and Slaughtermelon, we expected an intense pre.
Our reviews are based on testing with our unique, multi-point methodology. We may earn commission on your purchase of some products.
| Function | Primary Ingredient(s) | Score |
| --- | --- | --- |
| Energy | Caffeine Anhydrous, ZumXR Extended-Release, ZumXR Delayed-Release | 80 |
| Focus | Caffeine, L-Tyrosine, SantEnergy Nu, Dynamine, Huperzia serrata, alfabin | 100 |
| Pump | L-Citrulline, L-Taurine, S7 | 90 |
| Endurance | Beta-Alanine, L-Citrulline, Betaine Anhydrous, L-Taurine | 100 |
| Mood | L-Tyrosine | 40 |
| Strength & Body Comp | Betaine Anhydrous | 80 |
| Flavors | Three flavors as of this review | 60 |
| Ingredient Quality | Good ingredient selection, many underdosed, no electrolyte ingredients | 75 |
| Feel/Vibe | Strong beta-alanine tingles, low stim | 75 |
| Overall Score |  | 78 |
Our experience showed it to be a solid daily pre for casual workouts. It might be called Extreme, but it's not going to satisfy stim junkies and hard-core athletes trying to push themselves.
We rate products based on factors including:
Ingredients: Are ingredients backed by science and optimally dosed?
Flavors: Is there a good selection of flavors? Do they taste good?
Overall Effect: How does it make us feel?
We're a team of athletes, nutritionists and even PhDs who want to help you pick a product that's perfect for your needs.
Medical Disclaimer: This article is not intended as a substitute for medical advice. Its sole purpose is to educate and inform. Consult a licensed healthcare provider before beginning any fitness or nutritional program.
FIRST IMPRESSIONS
I have to say, in a market where package design tends to go ridiculously tacky, I like the understated packaging for Alpha Lion Superhuman Extreme. Black, white, and gold give it a classy look, with an extra shot of color in the flavor name.
The package was well sealed, so I know it hasn't been tampered with. I don't trust a loose seal.
The serving size is 16.2g in a single scoop. Alpha Lion suggests half a scoop or a full scoop, but for the full effect, I used a whole scoop.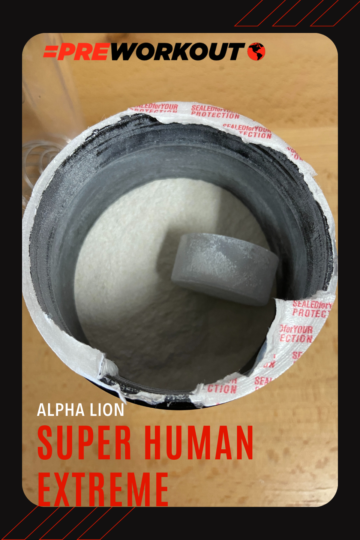 The scoop was easy to reach, but the desiccant was nowhere to be found. That happens a lot – either they put it in the bottom, or it settles in shipping.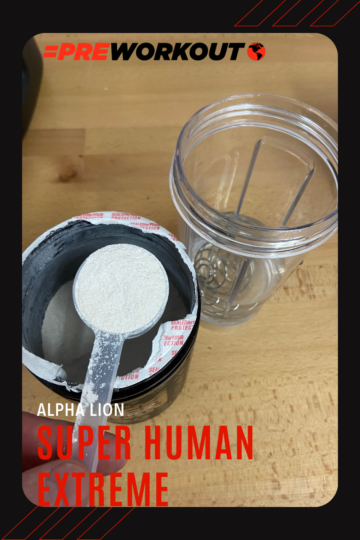 When I opened the seal, I got a very strong whiff of grape, and fine white powder swirled around. I expect this to mix very well, with such a fine powder.
I went with 8 ounces of water in my shaker bottle to get the full flavor profile, since Alpha Lion suggests 8-10oz. You may use less water or more to your liking.
THE FIRST SIP
As it mixes, I see fine lines of red and blue that end up turning a pale purple. It's a little trippy, not gonna lie. Kind of like a science experiment going on.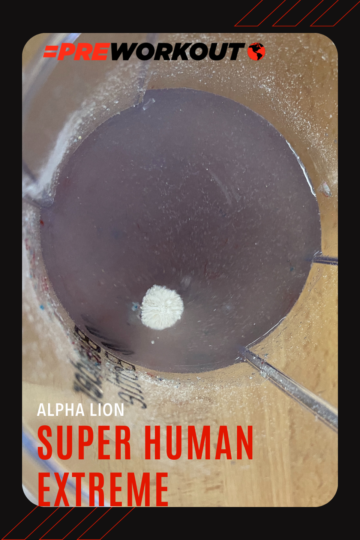 The flavor hits hard – this is your childhood grape drink with a punch of caffeine.
It's not at all grainy and mixes very well. With some pre-workouts, you're shaking it up every time you take a sip. This one stayed in suspension and didn't separate. 
I've said it before and I'll say it again – Alpha Lion knows their flavors.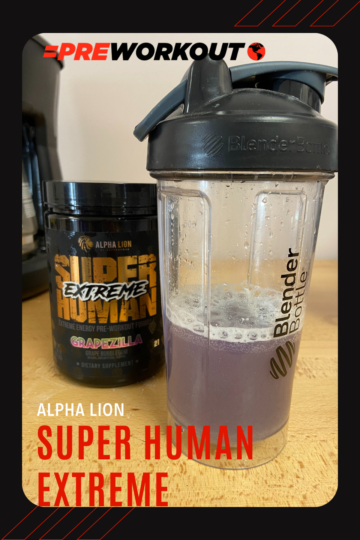 THE BIG 3 – CORE INGREDIENTS
At Pre-Workout World, we focus first on what we call The Big 3 ingredients:
Caffeine
Citrulline
Beta Alanine
We'll go into more detail about those ingredients as we consider the whole package: focus, pump, strength, mood, energy, etc.
| Product | Caffeine | Citrulline | Beta-Alanine |
| --- | --- | --- | --- |
| Alpha Lion Superhuman Extreme | 370mg | 4g | 3.2g |
PUMP INGREDIENTS IN Alpha Lion Superhuman Extreme
Alpha Lion includes four items in Superhuman Extreme's ingredient list "Superhuman Pump & Absorption Matrix." The first is L-Citrulline, one of the most common ingredients used to increase pump. Citrulline is known to open up the arginine nitric oxide pathway and increase blood flow.
I'm a little disappointed to see only 4g of L-Citrulline, and no nitrates. The only other proven pump ingredient is L-taurine, which is also a little under the optimal dose at 1g. It just wasn't enough to really feel a strong pump. 
Superhuman Extreme also includes black pepper extract and S7, a trademarked blend of seven botanical extracts:
Green coffee bean extract
Green tea extract
Turmeric extract
Blueberry extract
Broccoli
Kale
Tart cherry
Lots of users like these extracts for pump and increased absorption, but there's no strong scientific data to show that they work. When Alpha Lion underdoses what works, and tacks on extracts that might not, it's an underwhelming product.
ENDURANCE INGREDIENTS
Pre-workout fans either love or hate beta-alanine, for the endurance and the tingles. Superhuman Extreme has a hefty 3.2g of beta alanine for a satisfying tingle that will get users through a few more reps. 
It's not an insane dose like some other products (Ryse Godzilla for one), but it's the only ingredient in Superhuman Extreme that goes beyond the optimal dose.
To be honest, it's the only ingredient I really felt. The beta was strong enough to feel the tingles quickly, and it kept up throughout the workout, but that was basically it.
ENERGY INGREDIENTS
Caffeine is well-dosed at 370mg, but Alpha Lion isn't entirely clear on how that caffeine is dosed out. They call it their "SXT Energy System," which includes 
Caffeine Anhydrous
zumXR Extended-Release Caffeine
zumXR Delayed-Release Caffeine
How much of each of these is included? What's the difference between extended and delayed release? Alpha Lion doesn't say.
370mg of caffeine looks like a strong dose, but the extended and delayed formulas must be dominant, because I really didn't feel a big surge of energy like I would expect from that much caffeine.
Superhuman Extreme also includes SantEnergy as part of its Energy & Focus Matrix. SantEnergy is a branded extract of santa yerba (eriodictyon californicum), a plant that might have some weight loss benefits, but has no scientifically proven impact on energy. The 400mg dose is the same amount used in studies.
STRENGTH INGREDIENTS
The 2.5g of betaine anhydrous in Superhuman Extreme is widely seen as the optimal dose, so that's a positive in Alpha Lion's column. Research on betaine has been mixed, showing positive results in body composition with animal testing. The jury's still out on humans, but a lot of products are adding betaine.
The thing is, betaine anhydrous is usually used along with creatine, which has a lot more substantive science backing it up as a muscle builder and performance enhancer. Alpha Lion didn't include creatine in any form, which means Superhuman Extreme is just not as comprehensive as we would like to see. It's still an excellent preworkout.
FOCUS INGREDIENTS
Aside from caffeine, Superhuman Extreme has a host of focus-releated ingredients:
L-tyrosine 1g
SantEnergy Nu 370mg
Dynamine 400mg
Huperzine 20mg
Alfabin 1mg
Of these, L-tyrosine is the best-researched and most effective. 1g of L-tyrosine is a little on the low side, though. We'd like to see 1.5g or 2g for a really good nootropic effect.
The other good preworkout ingredients are plant extracts that, as I mentioned earlier, aren't necessarily that well tested. Studies have shown some positive effects from Rauwolfia vomitoria (Alfabin) for focus and mood, and 1g is a good dosage. 
ELECTROLYTE INGREDIENTS
Electrolytes are one area where Alpha Lion Superhuman Extreme falls short. There are no electrolyte ingredients at all – no sodium, no potassium, no nothing.
It's not that it's hard to get electrolytes from another source. It's that, if you're already drinking a pre-workout, you probably don't want to add even more liquid and go into your workout with a sloshing stomach. 
Including electrolytes would make Superhuman Extreme closer to a total package.
Superhuman Extreme FLAVORS
Alpha Lion Superhuman Extreme comes in three flavors as of this review:
Grapezilla
Hulk Juice
Slaughtermelon
I tested Grapezilla. They're fun names, but just like the "Extreme" name, they give users the impression that this is going to be a stronger product than it is.
SWEETENERS IN Alpha Lion Superhuman Extreme
Like a lot of pre-workout, Alpha Lion Superhuman Extreme uses sucralose and acesulfame potassium – better known as Ace K.
Many users perceive sucralose and Ace K to have a bitter aftertaste, which is why a lot of products use a mixture. Of course, if they both taste bitter to you, or you're If you're sensitive to artificial sweeteners, this product might not be appealing.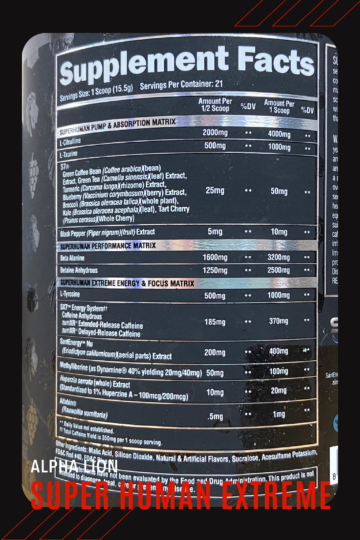 DOES Alpha Lion Superhuman Extreme HAVE ANY SIDE EFFECTS?
I didn't experience any side effects from Superhuman Extreme, unless you count the beta alanine tingles – which I don't, because that's half the point, right?
For other users, it's going to depend entirely on how well you tolerate caffeine and beta. The caffeine is high enough that users who aren't used to stimulants might feel a little jittery, but that wasn't the case in this test.
THE BOTTOM LINE
Alpha Lion Superhuman Extreme isn't a bad product at all – it just doesn't quite live up to the name. Alpha Lion makes some great products, too, so it's surprising to be a little disappointed. Bottom line, Alpha Lion's gone kind of mainstream on this one.
This is a solid product for someone who's just getting into pre-workouts and seeing what works for them and what doesn't. It's not a crazy stimulating formula, so a beginner or casual user might be able to guage how well they tolerate higher doses of caffeine, or whether the beta alanin tingles bother them.
WHAT WE LOVE
Tastes great
Good dosage of caffeine and betaine
Strong beta alanine effect
WHAT WE'D IMPROVE
Add creatine
Increase dosages of taurine and L-citrulline
Add electrolytes
Include better mood and focus ingredients
Expand flavors beyond 3
WHO IS Alpha Lion Superhuman Extreme FOR?
Users new to pre-workouts
Casual or light workout days
WHO IS Alpha Lion Superhuman Extreme NOT FOR?
Stim junkies
Users planning to really push themselves or PR
Scientific Studies
1. Yvonne Mödinger, Christiane Schön, Manfred Wilhelm, Christina Pickel, and Torsten Grothe. A Food Supplement with Antioxidative Santa Herba Extract Modulates Energy Metabolism and Contributes to Weight Management.
2. Van Every, Derrick W.; Plotkin, Daniel L; Delcastillo, Kenneth; Cholewa, Jason; Schoenfeld, Brad J. Betaine Supplementation: A Critical Review of Its Efficacy for Improving Muscle Strength, Power, and Body Composition
3. Javier Zaragoza, Grant Tinsley, Stacie Urbina, Katelyn Villa, Emily Santos, Angelie Juaneza, Matthias Tinnin, Cory Davidson, Susan Mitmesser, Zhiying Zhang, and Lem Taylor. Effects of acute caffeine, theanine and tyrosine supplementation on mental and physical performance in athletes
4. Christina Kuhn, Bernd Bufe, Marcel Winnig, Thomas Hofmann, Oliver Frank, Maik Behrens, Tatjana Lewtschenko, Jay P. Slack, Cynthia D. Ward, and Wolfgang Meyerhof. Bitter Taste Receptors for Saccharin and Acesulfame K
Related:
Ryse Godzilla Pre-Workout Review
Top 10 Best Pre-Workouts on Amazon