Alpha Lion has been one of my favorite supplement companies for a long time. Alpha Lion Superhuman Pre is their flagship pre-workout product, so obviously it's due for a review.
Our reviews are based on testing with our unique, multi-point methodology. We may earn commission on your purchase of some products.
| Function | Primary Ingredient(s) | Score |
| --- | --- | --- |
| Energy | Caffeine Anhydrous, ZumXR Extended-Release, ZumXR Delayed-Release | 80 |
| Focus | Caffeine, L-Tyrosine, SantEnergy Nu | 70 |
| Pump | L-Citrulline, L-Taurine, S7 | 90 |
| Endurance | Beta-Alanine, L-Citrulline, Betaine Anhydrous, L-Taurine | 100 |
| Mood | L-Tyrosine | 40 |
| Strength & Body Comp | Betaine Anhydrous | 80 |
| Flavors | 6 flavors as of this review | 90 |
| Ingredient Quality | Good ingredient selection, but underdosed, no electrolyte, little focus and strength ingredients | 65 |
| Feel/Vibe | Strong beta-alanine tingles, low stim | 75 |
| Overall Score |  | 77 |
The Superhuman Pre, as far as I'm concerned, is a solid daily driver. It has good ingredients, dosages are fine, and the flavor is good. It's just not for somebody working at an elite level.
We rate products based on factors including:
Ingredients: Are they scientifically researched? Are they correctly dosed?
Flavors: Do they have good choices? Are they enjoyable?
Overall Effect: Do we see an effect on our workout?
Pre-Workout World has athletes, nutritionists, and fitness lovers who want to help you pick a product that's perfect for your needs.
Medical Disclaimer: This article is not intended as a substitute for medical advice. Its sole purpose is to educate and inform. Consult a licensed healthcare provider before beginning any fitness or nutritional program.
FIRST IMPRESSIONS
I'm a big fan of Alpha Lion's packaging. A lot of pre-workouts go so over the top that they look silly. Alpha Lion, on the other hand, goes with a cool black, gold, and white color scheme and uses the flavor name for a splash of color.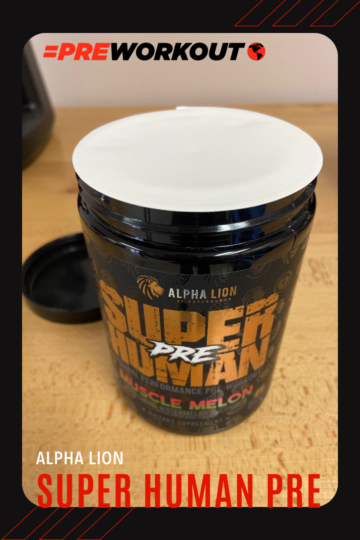 It doesn't break open easily. I pulled the seal off and it still left a thin layer of paper that I had to tear away. That's a good thing, I'd say – I can definitely trust that it's clean and safe.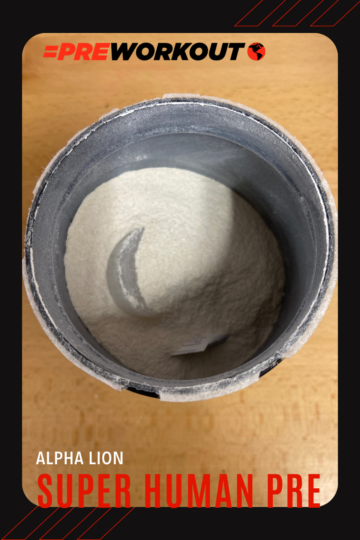 The scoop was easy to reach and the desiccant was on top. Popping it open, you get a shot of watermelon scent very strong. The powder is so fine it seems to evaporate in the air. Burns the nose just a little; that's probably the citric acid.
Alpha Lion's suggested serving size is one-half or one scoop in 8-10oz of water. Since I'm reviewing for flavor in addition to performance, I went with a full scoop in 8oz to get the flavor in full. Some users might not want that much water sloshing around, or you might want to cut the sweetness with more water. I tend to chug the whole thing down pretty quickly. Savoring it isn't really the point of a good pre-workout.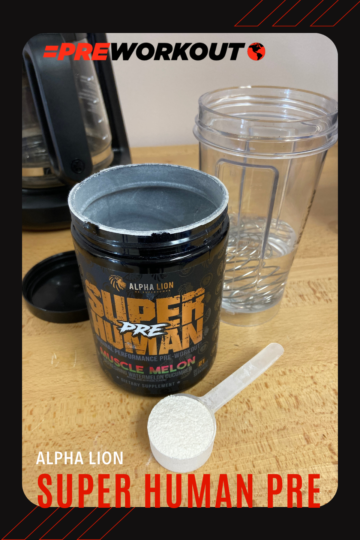 THE FIRST SIP
Honestly, though, this isn't a bad flavor to savor at all. In fact, it's very tasty and surprisingly refreshing. I definitely got a little hint of cucumber, although the watermelon is dominant. 7/10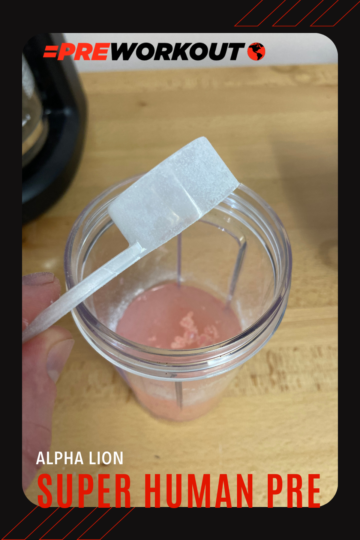 The texture was slightly grainy, but it mixed immediately and didn't need to be shaken up continually like some other products.
The pale pink color is nice. I'm not a big fan of unnatural colors in a supplement, so Alpha Lion made the right decision with this one.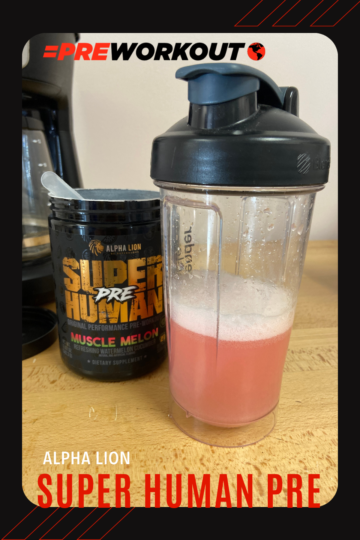 THE BIG 3 – CORE INGREDIENTS
The Big 3 ingredients of any excellent pre-workout, as far as we're concerned, are:
Caffeine
Citrulline
Beta Alanine
We definitely want to see a whole package – focus, pump, strength, mood, energy, and so on – but these are the bad boys, the ones that everything else depends on. If you don't do them right, don't call yourself a preworkout supplement.
| Product | Caffeine | Citrulline | Beta-Alanine |
| --- | --- | --- | --- |
| Alpha Lion Superhuman Pre | 325mg | 4g | 3.2g |
PUMP INGREDIENTS IN Alpha Lion Superhuman Pre
Alpha Lion offers a pre-workout that is totally focused on pump – called Superhuman Pump, of course – so I wouldn't expect their standard pre-workout to be heavy on pump. As it is, though, Alpha lion did include a decent amount of pump-focused ingredients.
It's a four-item list under Superhuman Pump & Absorption Matrix:
L-citrulline
L-taurine
S7 (more on that later)
Black pepper extract
Since it's one of our Big 3, I'd expect something in the neighborhood of 8g of L-citrulline for a serious pump, but Superhuman's L-citrulline is only 4g. Studies have shown that the minimum effective dose is 3g, so Alpha Lion's not going above and beyond here. Same is true of the l-taurine at 1g – I like that it has taurine, but I'd rather see more like 2 or 3g.
The extracts are a mixed bag, as far as scientific data shows. Black pepper extract, for instance, does have some proven anti-inflammatory qualities in animal studies.
The ingredients in S7 – a branded mix of plant extracts – are intended to help increase absorbtion and efficient use of the other ingredients. S7 includes extracts of:
Blueberry
Broccoli
Green coffee bean
Green tea
Kale
Tart cherry
Turmeric
I'm not against them, but I'd rather see more effective doses of the ingredients that are proven to work – L-citrulline and L-taurine.
ENDURANCE INGREDIENTS
Beta-alanine is one of our Big 3 at Pre-Workout World, because if you're looking for endurance and strength support, beta's got the best scientific backing. Studies have shown that 4-6g of beta-alanine are effective.
There are products that will go over the top with 4, 5, even 6g of beta-alanine, but that's excessive for all but the hardest-working of athletes. With 3.2g of beta-alanine, Superhuman Pre gives me the tingles, but it's not overwhelming.
Unless you're a low-caffeine kind of person, the betas are probably the only ingredient you're going to really feel, especially if you're just getting used to it. A higher dose might make your skin crawl, but Superhuman is in the sweet spot for most users.
ENERGY INGREDIENTS
Pre-workouts usually appeal to the stim junkies – that's why caffeine is one of Pre-Workout World's Big 3. But an effective dose of caffeine doesn't mean putting the entire daily allowance into one pre-workout product.
So when Alpha Lion Superhuman Pre puts 325mg of caffeine in their formula, that's not a bad number. It's not a stim junkie number, but for most people – especially users starting out with pre-workout – it's enough to feel an edge.
For someone who's very used to harder-hitting pre-workouts, it's not quite getting it for me. Plus, Alpha Lion includes three different forms of caffeine in their SXT Energy System:
Caffeine Anhydrous
zumXR Extended-Release Caffeine
zumXR Delayed-Release Caffeine
The one thing that bothers me about this combination is that Alpha Lion isn't telling us how much of each is included in the formula. I didn't feel as massive a hit of caffeine as I have with other pre-workouts, which makes me think there's probably less than expected once the extended-release and delayed-release do their part.
Alpha Lion also uses SantEnergy Nu, a santa yerba (eriodictyon californicum) extract. It's dosed at 400mg like some studies, but even though there's some sign of weight support, there's no scientific data yet on whether it increases energy.
STRENGTH INGREDIENTS
When you think strength and body composition, you think creatine, but that's not what Alpha Lion is thinking with Superhuman Pre. Creatine has a long line of scientific research to show for it, but if you think about Superhuman Pre as entry-level, it's fine to expect new users to not want everything all at once.
So Alpha Lion's given Superhuman Pre 2.5g of betaine anhydrous in place of creatine. The nice thing there is that 2.5g is right in line with the optimal dose, according to research.
Most research on betaine has come from animal testing, but come on gym rats – you're an animal!
FOCUS INGREDIENTS
At Pre-Workout World we love our nootropics – caffeine alone isn't enough to keep you focused through a hard workout.
Besides caffeine, Alpha Lion Superhuman Pre includes 1.5g of L-Tyrosine. Studies have shown that tyrosine has a positive impact on performance, but 1g is a little short of the optimal dose. We'd rather see 2g, which is what scientific study shows to be ideal.
ELECTROLYTE INGREDIENTS
Like with the creatine, I'd like to see some electrolytes added. If you're making a formula that works for beginners, making a little more comprehensive can save a user a lot of trouble. As it is, even a little sodium and potassium would make Superhuman Pre a better product.
FLAVORS
Alpha Lion has a boatload of flavors for Superhuman Pre, and they've got some of the most colorful names in the business:
Hulk Juice
Miami Vice
Orange Gainsicle
Lion's Blood
Grapezilla
Unicorn Juice
One thing Alpha Lions known for is their flavors, and with Muscle Melon (the flavor I tried) they've done it again. It tastes good. It's real good. Whoever Alpha Lion has formulating their flavors, they're they're making those natural and artificial flavors work.
SWEETENERS IN Alpha Lion Superhuman Pre
Whether you like the flavor of Superhuman Pre is partly going to depend on how you feel about artificial sweeteners. Pre-workouts try to keep their calorie counts down by using artificial sweeteners, and the two in Superhuman Pre are pretty common.
The only downside to sucralose and acesulfame potassium (Ace K) is that some users experience a bitter aftertaste. There's not a lot of science to make me worry about side effects, and the bitterness doesn't bother me. Flavor is a matter of taste, you know?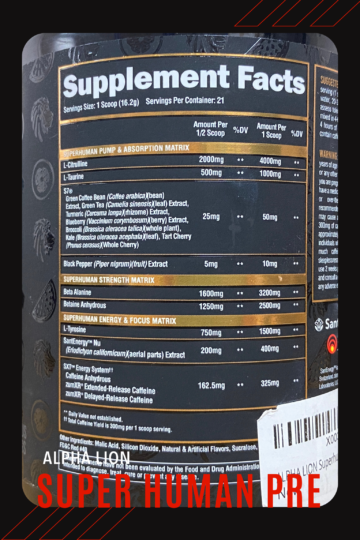 DOES Alpha Lion Superhuman Pre HAVE ANY SIDE EFFECTS?
There's enough caffeine in Superhuman Pre that an inexperienced user might feel some side effects – jittery, anxious, maybe a headache.
Superhuman Pre could also give a new user some tingling sensations from the beta-alanine, but like I said, it's probably not enough to give you a full-on skin crawling feeling unless you're just really susceptible. That's something you'll have to answer for yourself.
THE BOTTOM LINE
If you're just getting into pre-workout supplements and you're figuring out what kind of user you are, Superhuman is a great one for you. It takes time to find out if you're a stim junkie, no-stime or low-stim, if you love the beta and hate the tingles, if you need the extra pump.
Alpha Lion Superhuman Pre gives you the basics in beginner-level doses, so you get a solid all-around introduction to the ingredients that make a pre-workout what it is.
WHAT WE LOVE
Solid dosages of the Big 3
Good all-around basic
Great flavor
Decent beta-alanine
WHAT WE'D IMPROVE
Add creatine
Add electrolytes
Increase L-taurine
Increase L-citrulline
WHO IS Alpha Lion Superhuman Pre FOR?
New pre-workout users
Users who want a light stim
Lower activity workouts
Users starting a workout plan
WHO IS Alpha Lion Superhuman Pre NOT FOR?
Stim junkies
Users who want creatine
Users who want nootropics
Experienced athletes who want to PR
Scientific Studies
1. Timothy D. Allerton, David N. Proctor, Jacqueline M. Stephens, Tammy R. Dugas, Guillaume Spielmann, and Brian A. Irving. L-Citrulline Supplementation: Impact on Cardiometabolic Health
2. Masood Sadiq Butt, Imran Pasha, Muhammad Tauseef Sultan, Muhammad Atif Randhawa, Farhan Saeed, Waqas Ahmed. Black pepper and health claims: a comprehensive treatise
3. Eric T. Trexler, Abbie E. Smith-Ryan, Jeffrey R. Stout, Jay R. Hoffman, Colin D. Wilborn, Craig Sale, Richard B. Kreider, Ralf Jäger, Conrad P. Earnest, Laurent Bannock, Bill Campbell, Douglas Kalman, Tim N. Ziegenfuss, and Jose Antonio. International society of sports nutrition position stand: Beta-Alanine
4. Yvonne Mödinger, Christiane Schön, Manfred Wilhelm, Christina Pickel, and Torsten Grothe. A Food Supplement with Antioxidative Santa Herba Extract Modulates Energy Metabolism and Contributes to Weight Management.
5. Van Every, Derrick W.; Plotkin, Daniel L; Delcastillo, Kenneth; Cholewa, Jason; Schoenfeld, Brad J. Betaine Supplementation: A Critical Review of Its Efficacy for Improving Muscle Strength, Power, and Body Composition
6. Javier Zaragoza, Grant Tinsley, Stacie Urbina, Katelyn Villa, Emily Santos, Angelie Juaneza, Matthias Tinnin, Cory Davidson, Susan Mitmesser, Zhiying Zhang, and Lem Taylor. Effects of acute caffeine, theanine and tyrosine supplementation on mental and physical performance in athletes
7. Christina Kuhn, Bernd Bufe, Marcel Winnig, Thomas Hofmann, Oliver Frank, Maik Behrens, Tatjana Lewtschenko, Jay P. Slack, Cynthia D. Ward, and Wolfgang Meyerhof. Bitter Taste Receptors for Saccharin and Acesulfame K
Related:
Ryse Godzilla Pre-Workout Review
Top 10 Best Pre-Workouts on Amazon