Powher pre-workout brands itself as the 'ultimate pre-workout for women' and it's easy to see why the supplement is so popular. With the pre-workout (and supplements market at large) heavily tilted towards male athletes, Powher offers an alluring mix of performance-boosting nutrients while also maintaining a consistently feminine branding. It's a premium product that looks like it's made by women, for women and we simply had to test it out for ourselves to see how well it works.
Powher's ingredients are ideal for female athletes as they contain doses calibrated for their requirements. It is a versatile pre-workout that will benefit the beginner as well as an experienced individual who has been working out for some time without seeing the necessary results.
About Powher Pre-Workout
Powher is a pre-workout supplement that was developed to assist women in maximizing their energy levels and keeping their mental focus throughout the day. The Powher Pre Workout has a variety of nutrients, including Vitamins B6 and B12, as well as Caffeine and many others. These offer you several workout benefits as well as health benefits.
When it comes to improving your performance and stamina during exercise, Powher pre-workout can be an effective tool. Powher can also assist in the lowering of fatigue and stress. When developing new products like the Powher pre-workout supplement, the corporation collaborates closely with experienced Registered Dietitians. Therefore, you do not have to worry about any adverse effects.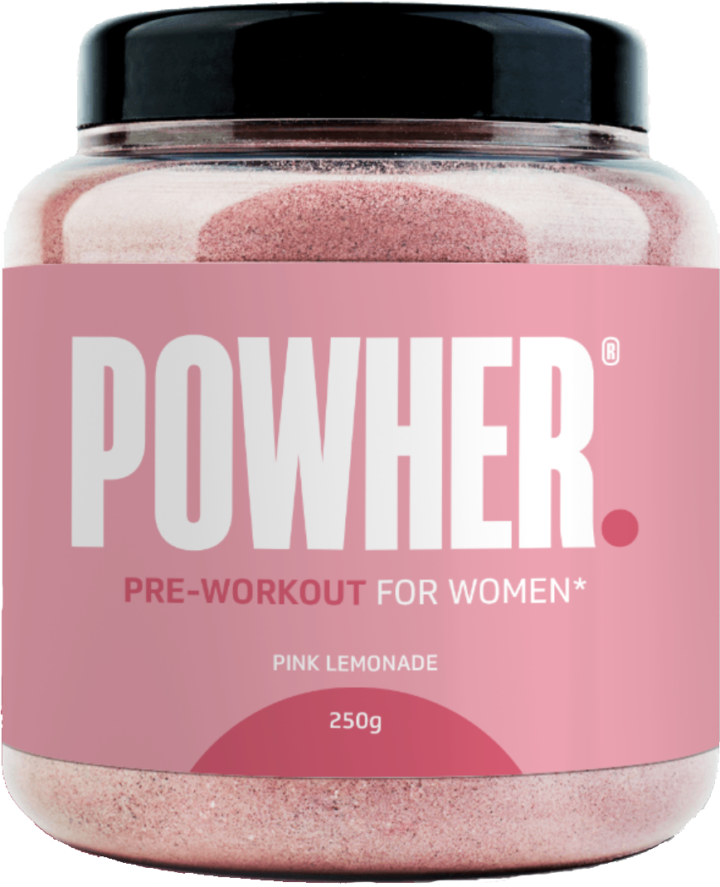 Powher Pre-Workout: Key Ingredients
If you're looking for supplements, be sure to focus on the ingredients and their dosages. Among pre-workout supplements, Powher's pre-workout has some of the greatest active ingredients available. Let's take a closer look at the components that go into the making of this incredible and one-of-a-kind pre-workout supplement.
EnXtra: A blend of extract, which is considered a natural source of caffeine. It's been said to improve concentration and attention span. Dosage sizes like this have been demonstrated to improve exercise performance by increasing strength, endurance, and total physical capacity.
Vitamin B6 and B12: Your food's natural energy is unlocked, and your mood is lifted when you take these vitamins. Your workout routine will be more enjoyable because of the reduction in exhaustion that they provide. Vitamin B6 can help alleviate the symptoms of premenstrual syndrome, including anxiety and moodiness. Muscle mass can be maintained with the help of vitamin B12. For optimal health, it's essential to consume both vitamins.
RedNite: RedNite is a dietary supplement that is high in nitrates. To increase blood flow, nitrates dilate the blood vessels. This kind of vasodilator can help prolong stress and increase endurance. These ingredients will assist you in maintaining a healthy cardiovascular system, which is essential to your overall health and fitness.
L-Citrulline: L-citrulline is an amino acid that is well-known for its ability to boost athletic strength and stamina. Because of its remarkable advantages, it is often utilized in pre-workout supplements to keep you stay energized and healthy. It increases your workout's effectiveness by giving you incredible stamina and endurance.
Beta-Alanine: Beta-alanine has been shown to improve physical performance, which might also assist prevent muscular fatigue. Many professionals and fitness enthusiasts use beta-alanine as a supplement to help them perform better. A supplement such as beta-alanine can be extremely beneficial while doing short, high-intensity workouts.
How does Powher Pre-Workout affect your routine?
Taking Powher before your exercise allows you to increase your performance thanks to the incredible ingredients that we described before. They contribute to making your exercise more efficient. However, pre-workout supplements are designed to be used in the minutes prior to an exercise or at going to the gym.
As a result, using Powher pre-workouts after meals or before going to bed is not something that is encouraged. Your pre-workout likely contains stimulants like caffeine, which raises the level of activity in both your brain and the rest of your nervous system. Therefore, you will need to include the consumption of pre-workout into your normal, everyday routine before heading to the gym.
Powher Pre-Workout Pros and Cons
Powher pre-workout is an excellent choice for athletes who do not need the massive amounts of caffeine or stimulants that are often available in pre-workout supplements. However, these items come with a few advantages and disadvantages; let's have a look at some of them to see what each one has to offer.
Pros
Cons
Natural Ingredients.
Less Stimulants.
Increases endurance.
Improves stamina.
Quick recovery from workouts.
Only 1 Flavor.
Only available in official stores.
Not suitable for pregnant women.
Powher Pre-Workout Dosage:
There are a variety of pre-workouts, each of which comes with its own specific instructions. If you want to experience all of Powher's advantages, then taking one 10-gram scoop of the powder at a time should be plenty. Powher Pre-workout has a perfect blend of a number of excellent active substances that, when consumed in the recommended dosages, provide tremendous benefits.
Drink 8 oz of water mixed with 1 scoop (10 g) of pre-workout 30 to 60 minutes before going to your workout. In this method, the required doses will be administered to your system in the proper way, allowing you to experience the advantages of the supplement.
Powher Pre-Workout Side Effects
This product is safe to use and prepared in accordance with GMP guidelines. There's no need to worry about the product's safety or consistency since it is created in FDA-registered facilities and laboratories in the United States. You do not have to worry about any side effects associated with it.
Powher contains only naturally occurring and effective substances. During the course of our research for this article, we did not come across any adverse consequences. Having said that, it is of the utmost significance that you read carefully the labelling of the supplement you buy and examine the warnings and recommendations.
Conclusion
Powher Pre-Workout is a high-quality supplement that incorporates a variety of well-known and innovative ingredients. Taking a Powher pre-workout supplement will help you achieve your fitness objectives by boosting your athletic performance and energy levels. This pre-workout has been shown to be incredibly beneficial for women to utilize on a regular basis, and it is also completely safe to do so.