Pre-workouts are an efficient approach to support both your overall fitness and the effort you make in the gym.
When deciding to buy a pre-workout supplement, there are quite a few aspects you should search for to ensure you end up with the highest quality product possible.
Checking to see whether pre-workout supplements have been third-party tested and assessed is a good place to start. Knowing what is required and which product will most likely fulfil that need is necessary for selecting the appropriate product.
This is often determined by clinical objectives as much as individual preferences. Since not all dietary supplements are developed in the same manner, it is essential to carefully examine the purchase of high-quality supplements that have been tested appropriately and come from a reliable source.
There are many scams involving supplements in today's world, and third-party testing can assist you in avoiding fake products.
What is Third Party Testing?
Independent programs that provide manufacturing facilities with inspections and testing are known as third-party certifications. Third-party testing is a phrase used to define a quality control system or a test that inspects the product's performance and provides an unbiased evaluation of analytical performance. In simple terms, third-party testing is a test that examines the effectiveness of the product.
When providing objective certification of their goods, the manufacturer is free to choose any third-party certifier they like. Any manufacturing process must include adequate testing as an essential step, but this necessity has an especially critical significance in the medical industry. Due to the fact the medical industry requires the highest degree of testing and assessment, a new kind of testing was necessary, which led to the development of third-party testing.
In this scenario, an impartial testing agency will evaluate the quality of your product and provide certificates based on their findings. For this, neither the firm nor the government will be able to influence the outcomes of the assessment, giving you an unbiased judgment.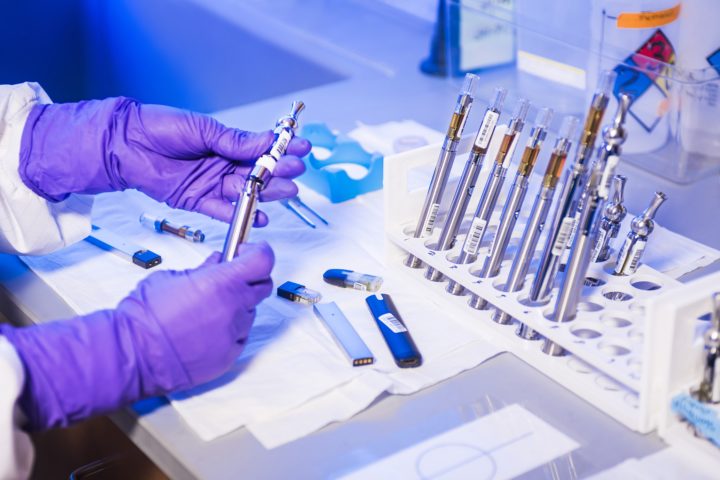 Why is Third-Party Supplement Testing Necessary for Your Health?
Athletes and consumers who want to protect themselves from fraudulent and scam products should look for dietary supplements certified as third-party tested. This is essential when it comes to pre-workout.
You have a lot of different alternatives to choose from, but it is essential to make sure you select the proper one because of the potential risks it presents to your health.
The accuracy and safety of the product's constituent parts are validated by independent certification. This ensures that there are no secret components in the product, as well as the fact that it is completely risk-free to use.
To lower the amount of contaminated and compromised products sold, third-party organizations are established. These assist you in obtaining a suitable product that benefits your health.
What Are the Benefits of Third-Party Testing?
When you invest in a product, you can find a little logo behind the product that claims that it has been evaluated and approved by an independent organization. This should be the case if the product has been evaluated and tested.
You might be wondering what makes it so unique. As you continue reading, you will get more knowledge about the many advantages that you receive as a result of third-party testing.
Consistent Excellent Quality: When you present your products to the evaluation and inspection of a non-affiliated third-party organization, you can rest easy knowing that the items' quality has been verified. In addition, the inspections are carried out by qualified individuals working together as teams, which ensures that the quality of your products remains high and consistent.
Complete Transparency: The fact that third-party testing uses an impartial entity is one of its primary advantages. The third-party organization does not exert any pressure on the company and has no interest in its items. As a result, the certification and assessment are quite precise, and there are no problems with either. In addition, neither the government nor the manufacturers have any influence over any of the third-party organizations.
Ensure Safety: When a corporation decides to send their product for testing to see whether or not it is safe and effective. Before they are allowed to analyze or assess the output of anybody else, the third-party organization must demonstrate that they satisfy specific requirements. When proceeding with the evaluation of the company's product, each of the testing methods and types is presented for review and verification.
What Types of Tests are Utilized by Third Party Testing Companies?
Every single product goes through a series of stages that serve to assess the level of quality that the product offers. There is a series of tests that examines not just the quality but also the originality and a great many other aspects of the product. Let's have a look at the different types of tests that were conducted by an independent third-party organization.
Shelf-Life Testing
Every single product has a unique expiration date. This also refers to the moment during which the product can be consumed. After several tests and analyzing the substances, the independent organization determines a set period for consumption. This ensures that the product will keep its effectiveness for a certain amount of time after it has been manufactured.
Contaminants Testing
Additionally, the product is examined to determine whether or not it contains any contaminants. This is done to determine whether the experts believe the product may contain any contaminants. In this method, the independent organization can guarantee that a particular product is entirely risk-free.
Label Claim Verification
This is the most crucial component of the assessing and testing process. Every product undergoes label testing verification, in which every item is examined to determine whether or not it contains the listed components. For instance, if a product claims to have 20 milligrams of caffeine, the organization will look into whether or not it includes that amount.
Allergen Testing
Every business uses a unique protective approach that assists them in avoiding contamination caused by allergen-containing ingredients in their products. These preventative measures are subjected to the scrutiny of independent organizations to guarantee they are safe for persons with allergens.
Heavy Metal Testing
The purpose of this series of tests is to make sure that the levels of metals included in pre-workout supplements do not exceed the maximums that have been authorized by the FDA. In the pre-workout supplements, the presence of metals is often checked for during these tests. Lead, mercury and arsenic are only a few examples among many more.
Where Do the Tests Take Place?
Before selecting where the testing will take place, several different considerations need to be taken into account. The primary criteria for the competence, impartiality and consistent operation of the testing laboratories are outlined in the international standard ISO/IEC 17025, which was developed to meet international standards. The lab's test findings must be high quality and technically accurate to achieve the goal.
Since this is the case, the location of the examination is irrelevant. This is self-evident, considering that the reputation of the testing facility ought not to have any impact on the technical findings. Remember that you cannot test things if you do not have the necessary certifications and licenses. However, proper laboratory testing environments should be maintained as part of the criteria.
Choosing The Right Third Party Testing Companies
Selecting the most appropriate third-party organization is of the utmost importance. There are a lot of testing organizations out there, but picking the best one will guarantee that your products are of high quality. We examined several organizations that provide third-party services and chose the most reliable ones. You can put your faith in the following organization's verified products.
Consumer Lab is the most trusted brand in the industry when it comes to providing unbiased test results and information on health and wellness goods and supplements. The firm has what are perhaps the strictest testing requirements in the industry. The company is very careful to adhere to all of the stringent regulations that are imposed upon it.
NSF (National Sanitation Foundation)
The National Science Foundation (NSF) is also one of the most reliable third-party organizations. With a corporate history spanning 75 years in healthcare, NSF has never been unable to provide accurate and reliable findings for any product that has ever been submitted to them for evaluation. The testing, auditing and certification services offered by NSF assure suppliers, regulators and consumers that the organization has assessed a product or system to determine whether or not it complies with standard specifications for safety, quality and sustainability.
USP (United States Pharmacopeia)
The United States Pharmacopeia (USP) is perhaps the organization that has been around the longest and has the greatest credibility. It has a history of success spanning over 200 years. The company offers the most reliable, accurate and objective findings about the effectiveness of the world's medicine, supplements, and a wide variety of other items. The USP contributes to the protection of patient safety and the improvement of people's health all over the globe. It is an independent, scientific, not-for-profit organization whose primary mission is to increase public confidence in high-quality medicine.
Bureau Veritas is a company that has been around since 1828 and provides a wide variety of services to the health industry. Lab testing, inspection, and certification are some of the services that it offers. The company operates more than 1,400 laboratories and regional offices in different parts of the globe. Additionally, the organization has a variety of laboratories that are listed with the CPSC. They strive to provide the most comprehensive and precise evaluation possible to deliver the finest testing services possible all over the globe.
Final Verdict
In addition to purchasing supplements of high quality from reliable suppliers, you may also benefit from using third-party certification, such as Verified Gluten-Free, NSF or USP, to assist you in making well-informed choices.
When looking for dietary supplements, it is essential to make sure that you choose a trustworthy manufacturer that conducts quality assurance checks on its products to guarantee their effectiveness, purity, and compliance with the product labels.
Therefore, make sure that you carefully choose which company you should trust.