I've been using pre-workouts for over a decade and Bucked Up was one of the first I ever tried. I loved it then for its flavor and its simple set of ingredients. And I continue to use it to this day when I'm looking for great flavors and a lower stim boost.
I'm not sure about you but when I read a pre-workout review I want to know the bottom line right away. So let's cut to the chase:
Bucked Up is the best pre-workout for beginners and those looking for a simple, moderately caffeinated pre-workout with basic ingredients.
| Function | Primary Ingredient(s) | Score |
| --- | --- | --- |
| Energy | Caffeine Anhydrous | 93 |
| Focus | Alpha GPC | 90 |
| Pump | Citrulline Malate | 86 |
| Endurance | Beta-Alanine, Citrulline, Electrolytes | 90 |
| Mood | Caffeine provides some mood boost | 67 |
| Strength & Body Comp | Caffeine provides some strength benefit | 56 |
| Flavor | Over 22 great flavors to choose from! | 99 |
| Ingredient Quality | On the lighter side for the core 3. Good for beginners. | 90 |
| Feel/Vibe | Bucked Up is a very smooth energy. No jitters or tingles. | 95 |
| Overall Score |  | 84 |
First Impressions
The first sip of Bucked Up is almost always delicious. I've had many of their flavors. My personal favorite is Rocket Pop although this time I had Strawberry Kiwi.
I'll be honest and say I'm not a huge fan of Bucked Up's Strawberry Kiwi flavor now that I've tried it BUT, from personal experience I know that Bucked Up normally has the best or one of the best flavor profiles for any pre-workout so I'm not going to take points off for flavor. I'm usually a huge fan of Strawberry Kiwi flavors but this one is only just ok. I feel like I can taste a little pineapple which surprises me. There's definitely something besides the strawberry and kiwi that's throwing me off a little.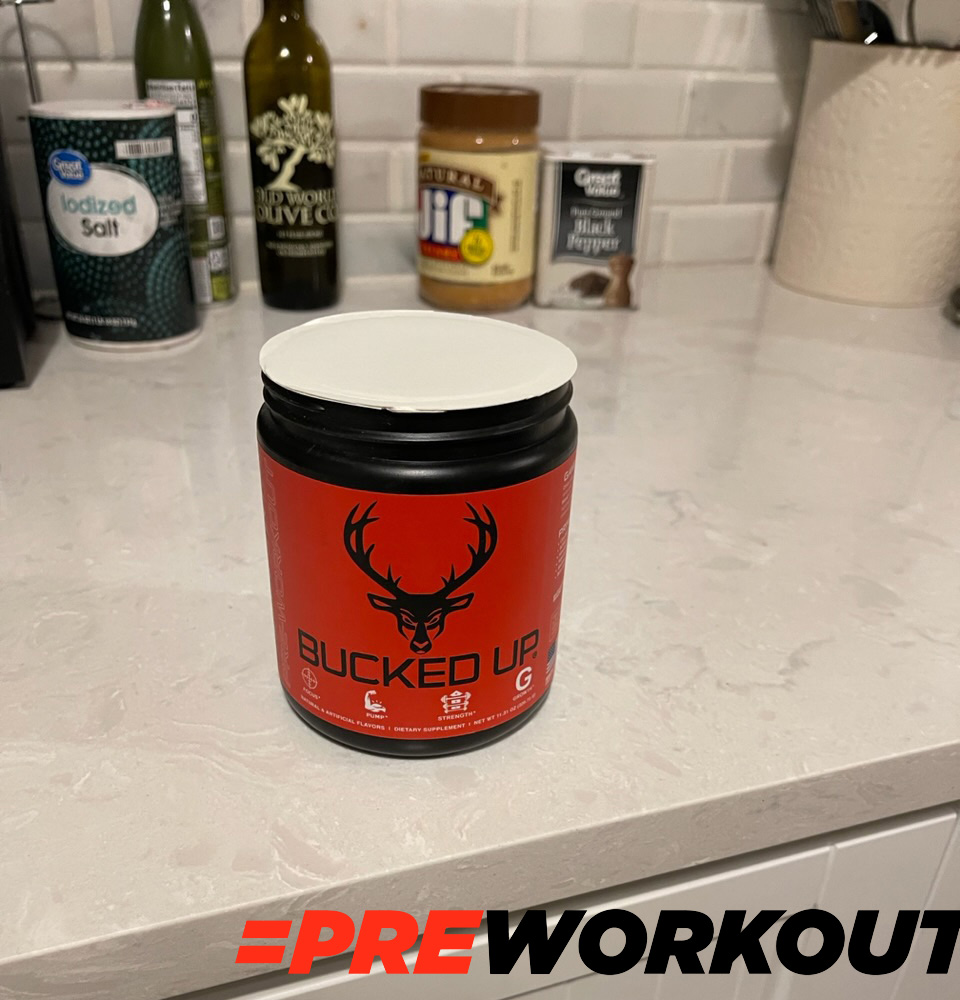 Bucked Up has a good, in tact seal.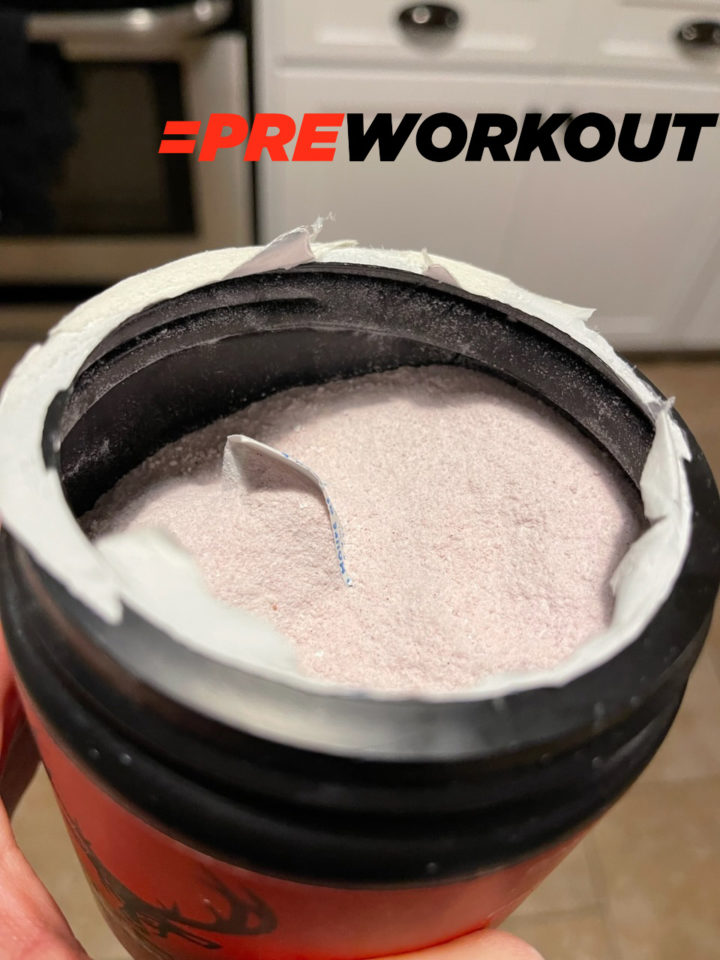 The Bucked Up tub is about 90% full, and was a little messy getting open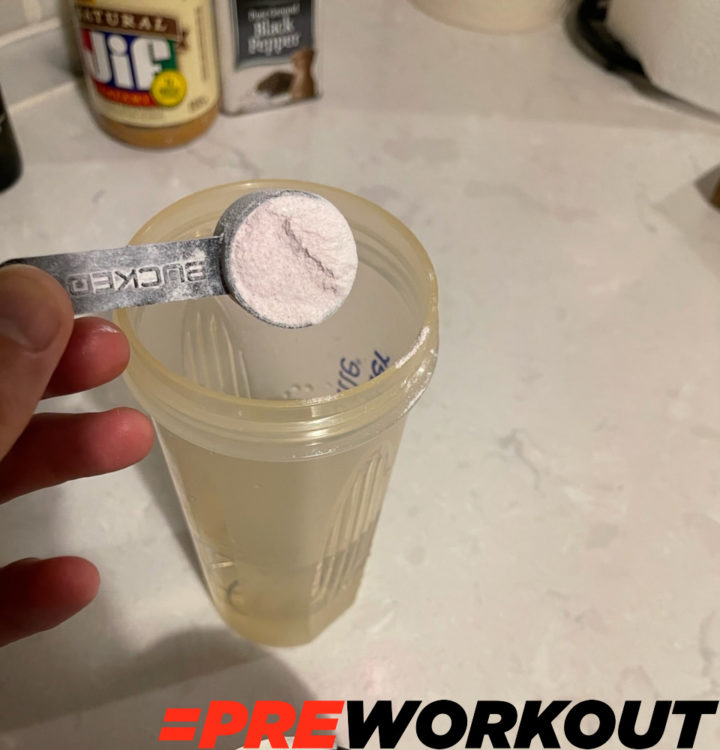 Here's the scoop, which is Bucked Up branded. A nice touch.
One scoop of Bucked Up contains about 11g of powder. Because it's a lightly dosed pre-workout, and has less powder than most pre-workouts, Bucked Up mixes exceeding well.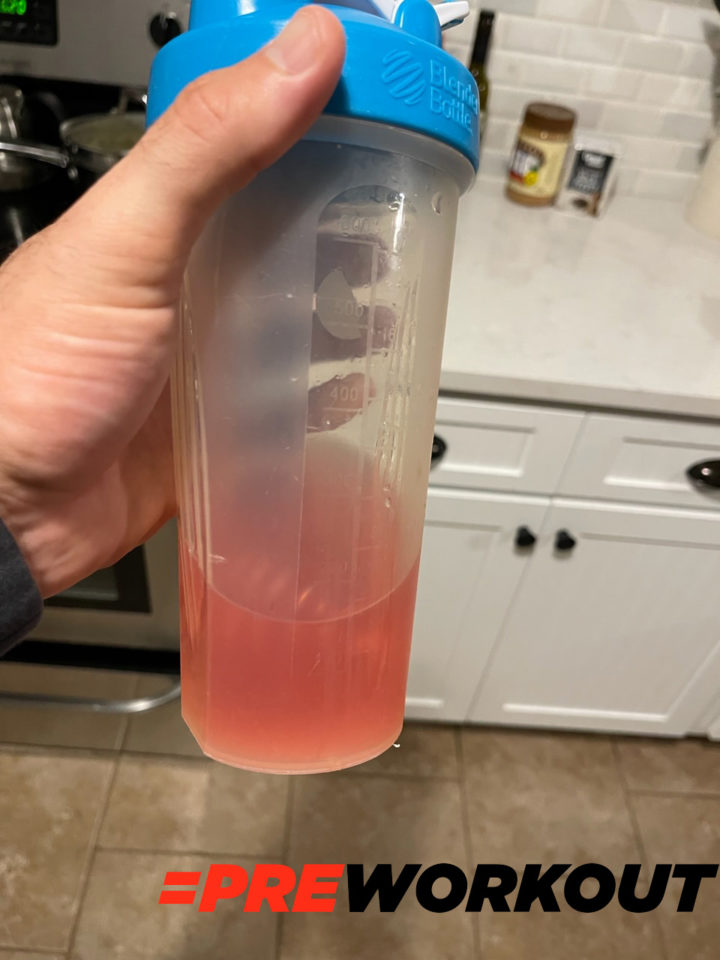 Here's the bucked up all mixed up with very little settling
Here you can see the color of the Strawberry Kiwi flavor which looks and smells very appetizing. It's not a top 3 flavor to my palette but its good enough to go down.
The Big Three
| Product | Caffeine | Citrulline* | Beta-Alanine | Formula Score | Overall Score |
| --- | --- | --- | --- | --- | --- |
| Bucked Up | 200mg | 4g | 2g | 80 | 84 |
*Citrulline Malate is usually 2 parts Citrulline to 1 part Malic Acid. We only count the Citrulline component. So 6g of Citrulline Malate only counts as 4g of Citrulline.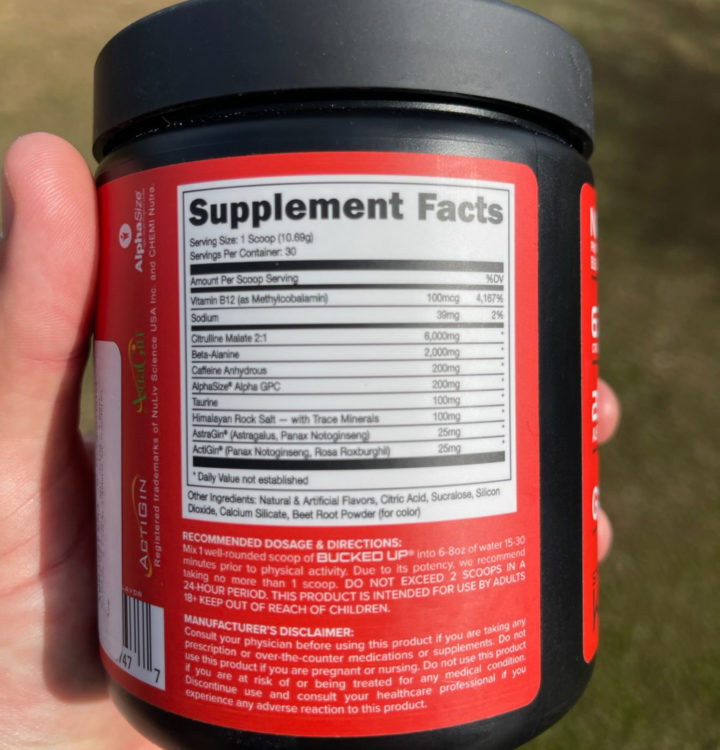 Bucked Up's Supplement Facts Label with Ingredients
What We Love
Most flavors are great
Blends well
No Jitters
Solid focus
Has the three core pre-workout ingredients
Himalayan Rock Salt for trace minerals
What We'd Improve
Higher taurine dosage
More Citrulline
Add a mood booster
Add a strength enhancer like creatine
Who Is Bucked Up For?
beginners
people who want a simple pre-workout
people who want a light pick-me-up
people who have low caffeine tolerance
people who have low beta alanine tolerance
people look for an energy drink like boost
Who is Bucked Up Not For?
people who prefer high-stim pre-workouts
people who want a clinical doseage of beta-alanine
people who want a mood boosting nootropic
people who want a massive pump
people looking to set a PR