Building muscle is difficult, and it requires patience along with consistent resistance exercise. While there are no shortcuts to hardwork, supplements can assist in increasing energy production, delaying fatigue, and improving both short term and long term recovery.
Each of these features which will help you achieve hypertrophy (muscle growth) more easily because you'll get in more intense reps. Sicne these muscle-building supplements will speed up your recovery from strenuous exercises, they allow you to get in more work before becoming tired.
What is the best supplement for building muscle?
Nowadays, the market is filled with numerous supplements that promise muscle development and a variety of other claims. Therefore, it can be confusing if you are looking for the very best supplements to gain muscle. So, for your convenience, we've researched several muscle-building supplements and selected the ten best among them.
Shifted Maximum Formula Pre-Workout
EkkoVision DETHRONER Pre-Workout
ProSupps HYDE Pre-Workout
Huge Supplements Wrecked Pre-Workout
Bucked Up Woke AF Pre-Workout
Ryse Supplements Pre-Workout
Raw CBum Thavage Pre-Workout
Beyond Raw LIT Pre-Workout
Primeval Labs Ape Sh*t Pre-Workout
1st Phorm Project-1 Pre-Workout
Our Criteria
When choosing the best, we wanted to see scientifically proven ingredients that were designed to help you get more out of your workouts. We identified five key ingredients we wanted to see in sufficient doses:
Creatine
Beta-Alanine
L-Citrulline
Nitrates
Betaine Anhydrous
We also considered the inclusion of other muscle building ingredients but those were our core five. We also favored brands without proprietary blends and non-transparent labels.
So you've already seen our top 10 selections, so let's examine each item's features in more detail.
#1 Shifted Maximum Formula Pre-Workout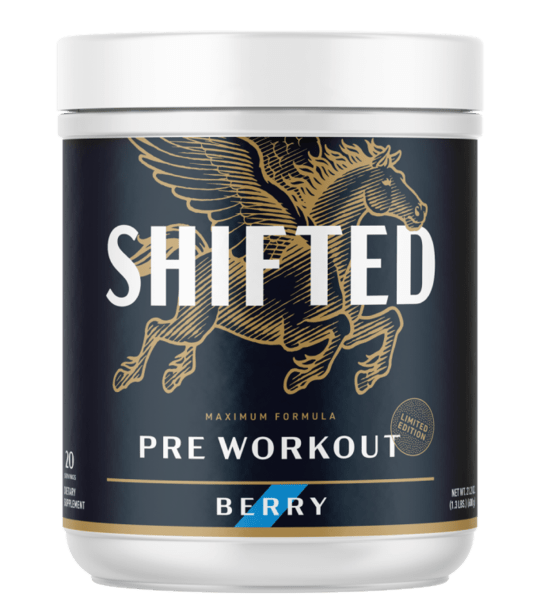 Shifted Maxim Formula Pre-Workout is a fully loaded pre-workout supplement with a great reputation. It's got over 7 muscle building ingredients packed into a single multi-ingredient supplement. Shifted Maximum can be an excellent option for you if you want to increase your muscle growth and boost physical strength.
This dietary supplement contains several all-natural substances that support the development of lean muscle and the reduction of fat cell formation. It's primary muscle building ingredients include: Creatine, L-Citrulline, Beta-Alanine, Betaine Anhydrous, ElevATP, Beet Root Extract and Red Spinach Leaf Extract.
In addition, Shifted Maximum also includes several nootropic substances, such as Alpha-GPC and Rhodiola Rosea, which improve your mentality and likelihood to push harder in the gym. All of these ingredients aid in improving athletic performance and positively affect cognition. In addition, AstraGin and Bioperine are two unique mix components that are also present in this supplement. To help you achieve your full potential both physically and psychologically, Shifted Maximum Formula is the best pre-workout.
Pros:
It increases muscle strength.
Helps in increasing muscular mass.
In addition to boosting endurance and stress reduction, it also burns fat throughout the body.
It enhances mood and self-confidence.
Cons:
Artificial sweeteners are present in high caffeine doses.
Not suitable for under-aged people.
Click here to buy Shifted Premium Pre-Workout.
#2 EkkoVision DETHRONER Pre-Workout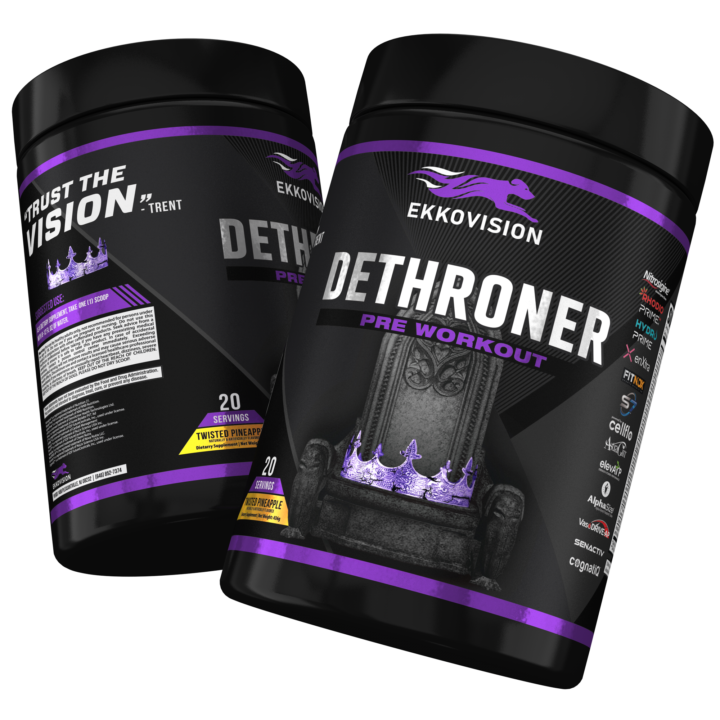 If you wish to increase the amount of muscle you have but also want to take a pre-workout supplement to help you, the EkkoVision DETHRONER Pre-Workout is the solution for you. In addition to having a recipe that focuses on building muscle, this pre-workout supplement also has a secure component combination, so you don't have to be concerned about any side effects.
In addition to caffeine, citrulline malate, beta-alanine, and creatine, this pre-workout also contains several beneficial nutrients, which increase performance by enhancing stamina, energy, and focus while promoting muscle growth.
This supplement is safe and effective as long as it is taken as recommended. It contains organic materials that are beneficial to the body. This risk-free solution enables people to lose weight and develop a muscular physique.
The supplement's manufacturer asserts that using it may increase your energy levels, speed up your body's natural fat-burning activities, and decrease your hunger. The product boosts muscle levels, supports the production of leptin and dopamine in the brain, prevents food cravings, and assists the body in using fat storage as a healthy energy source.
Pros:
It increases energy.
It boosts the growth of muscles.
Increases endurance and stamina.
It boosts power and agility.
Cons:
It is not suitable for ongoing use.
The possibility of nausea and vomiting exists.
Click here to buy EkkoVision DETHRONER Pre-Workout.
#3 ProSupps HYDE Pre-Workout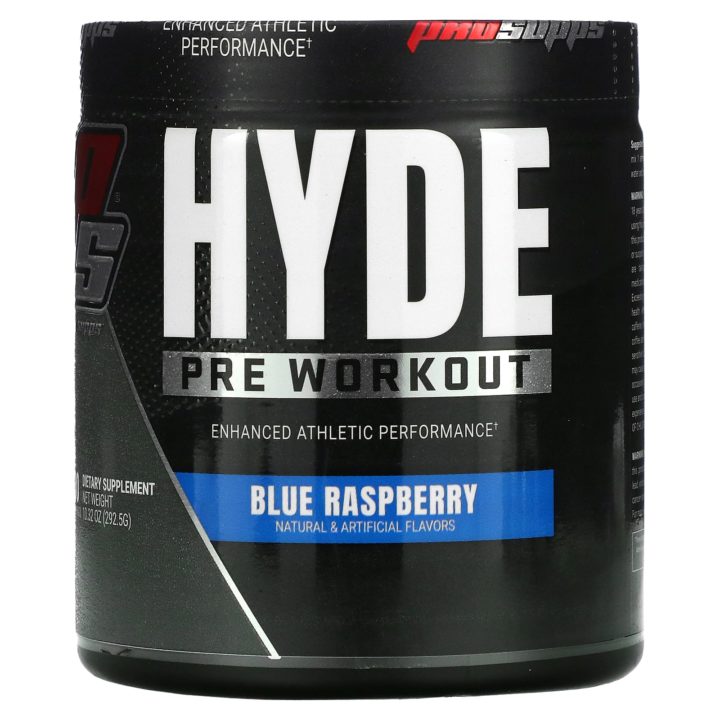 Another outstanding pre-workout is ProSupps HYDE Pre-Workout, which is primarily made to enhance athletes' performance, build their muscles, and lengthen their workouts. The HYDE Pre Workout is the ideal option for individuals seeking a decent, clean boost of energy with a little quantity of caffeine.
It includes a testosterone-boosting substance with scientific backing that raises your testosterone to estrogen proportion and increases stamina. Additionally, it improves muscular durability, endurance, and strength so users may push themselves to the maximum and get remarkable results.
Compared to other pre-workout supplements, it has roughly twice as much caffeine. This pre-workout supplement has thermogenic components like Yohimbe, which can speed up your metabolism and increase the calories you burn throughout each workout.
HYDE pre-exercise supplements are excellent choices for anyone who require a pre-workout supplement that is both user-friendly and calorie-free.
Pros:
Increases concentration and energy.
No prescription is required.
It enhances mood.
Encourages weight loss.
Cons:
Sometimes it doesn't function correctly.
Increased skin reactions.
Click here to buy ProSupps HYDE Pre-Workout.
#4 Huge Supplements Wrecked Pre-Workout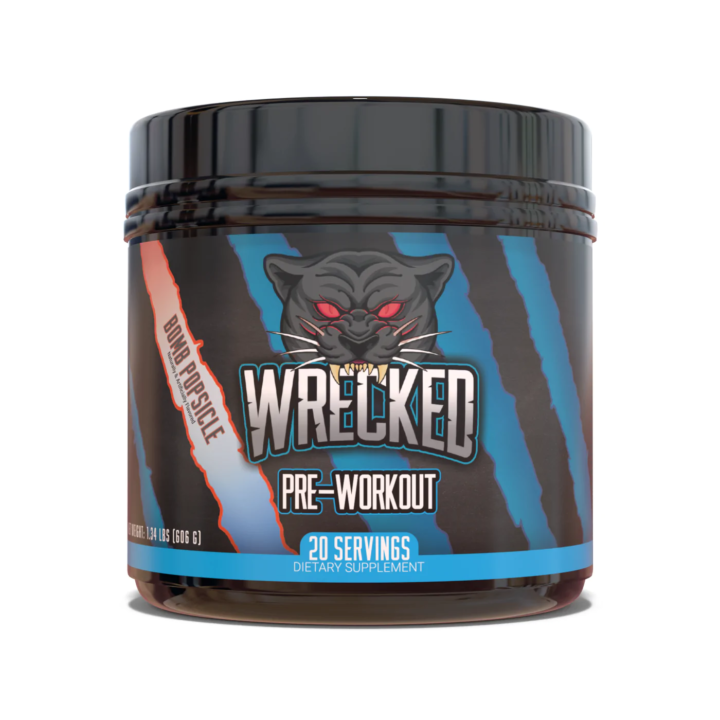 When there are so many different pre-workout supplements on the market, it can be challenging to identify the one that is likely to be most beneficial to you. However, Huge Supplements Wrecked Pre-Workout is a supplement that can boost your anaerobic energy output, give you more energy, and promote a greater pump during your workout.
Anyone searching for a strong caffeine boost and a long list of beneficial components should use wrecked as their pre-workout supplement. Caffeine, which is included in this supplement in 350 mg, may aid in enhancing focus and supplying energy both before and during exercise.
With its 17 strong components, this supplement can provide the energy you need to conquer your exercises. In addition, it includes traditional pre-workout components, including beta-alanine, citrulline, betaine, and black pepper powder, which may aid in the improved absorption of the other nutrients.
However, we can clearly say that the high dosages and component integrity in Huge Supplements Wrecked Pre-Workout make the price tag worthwhile.
Pros:
It enhances post-workout recovery.
Increases focus and vitality throughout workouts.
It decreases weariness and discomfort after the workout.
Increases power and endurance.
Cons:
Not examined by a third party.
Skin reactivity increases.
Click here to buy Huge Supplements Wrecked Pre-Workout.
#5 Bucked Up Woke AF Pre-Workout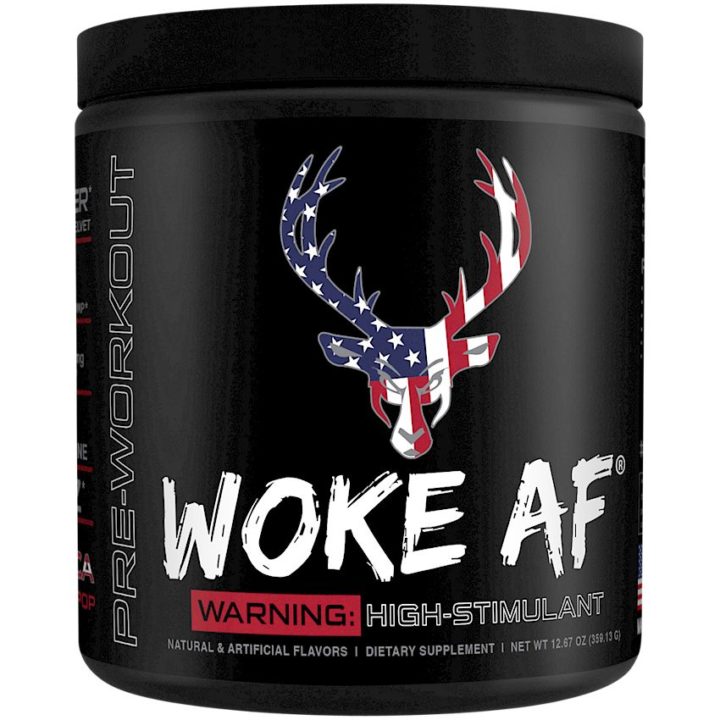 Developed by DAS Labs, Bucked Up Woke AF is another well-known and effective pre-workout supplement. It is also among the most recent muscle-building supplements, and its sole natural ingredients are citrulline, beta-alanine, and caffeine.
This supplement combines three distinct stimulants that are clinically proven cognitive enhancers. It provides a strong physical performance that keeps you alert and focused even during the toughest exercises.
In addition to caffeine, which is known for its ability to make people feel more energized, the Woke AF Pre-Workout Supplement also contains beta-alanine, improving your endurance and muscle strength. Compared to other pre-workout supplements, which include stimulants, Woke AF pre-workout has components designed to enhance the process of growing muscle as a whole.
When used before exercise, these pre-workout supplements with caffeine can increase anaerobic power production without affecting muscle strength. As a result, you may exert more effort throughout your workouts, resulting in more muscular growth.
Pros:
It elevates mood.
It increases overall performance.
Enhances recuperation from intense activity.
It increases the process of muscular building.
Cons:
You might have nausea and vomiting.
Unsuitable for pregnant women.
Click here to buy Bucked Up Woke AF Pre-Workout.
#6 Ryse Supplements Pre-Workout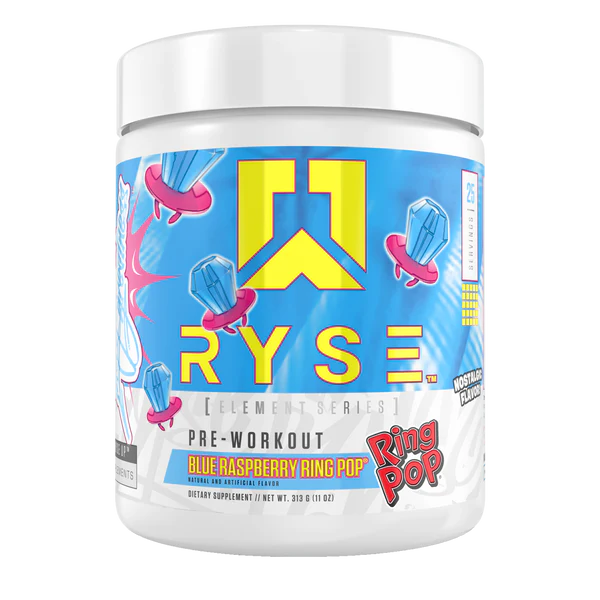 One of the most well-known pre-workouts on the market is the Ryse Supplements Pre-Workout supplement. It has elements that give you more muscle growth, concentration, and strength and enable you to handle more weight and work out for a longer period.
Ryse Pre-Workout utilizes exact quantities of tested substances based on in-depth research to ensure you receive the most benefit from your exercises. Without resulting in unpleasant post-workout depression, this ground-breaking combination enhances blood circulation, vitality, and attention in the gym.
The combination of beta-alanine and Thinkamine in Ryse provides the user with sustained energy, mental clarity, strength, muscular development, and endurance. It is mostly used to increase health performance, but some of its chemicals function as a stimulant because there are some stimulant compounds in it.
All of the ingredients in the Ryse pre-workout supplement have been examined and considered safe for usage by humans. You can be confident that this supplement won't interfere with your regular medications because it doesn't contain any illegal substances. Ryse Pre Workout is the perfect option if you're looking for a pre-workout medication that is secure and reasonably priced.
Pros:
It increases muscle healing time.
Aids with weight loss.
It enhances the natural synthesis of HCG.
It creates more muscle and keeps the body slim.
Cons:
It causes stomach pain sometimes.
Sometimes it does not work properly.
Click here to buy Ryse Supplements Pre-Workout.
#7 Raw CBum Thavage Pre-Workout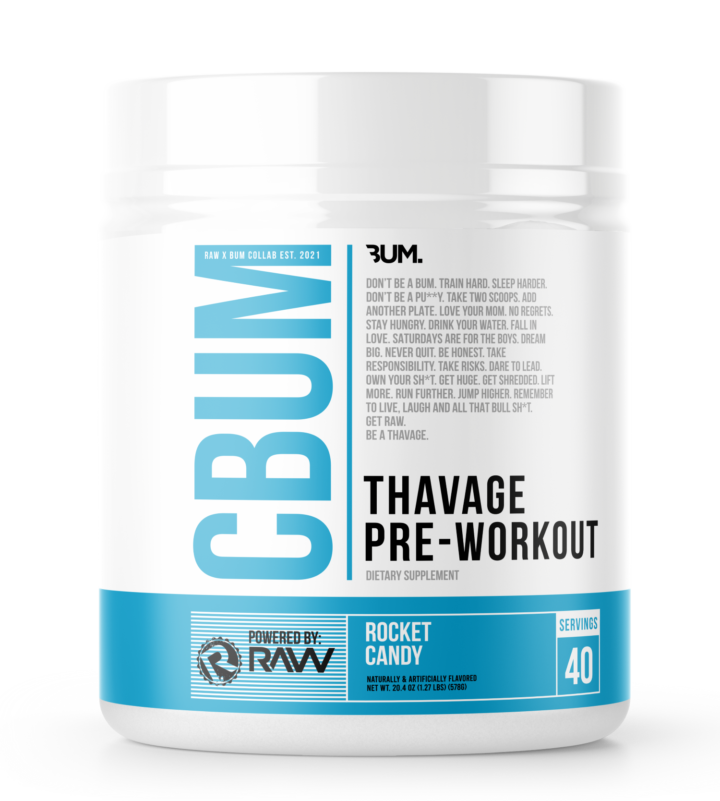 The CBUM Thavage pre-workout has recently been re-released by Raw Nutrition and Chris Bumstead. Also, Chris Bumstead specially created the flavoring technique for Thavage Pre-workout to produce a premium product with market-leading flavor profiles.
The components in Thavage Pre-Workout are concentrated to boost intracellular hydration, mental concentration, energy, blood flow, and fat-burning capabilities. In addition, l-Citrulline is a component that helps blood flow and endurance during exercise.
Betaine Anhydrous, which is contained in this supplement, has been proven in clinical investigations to increase muscular strength and muscle building. These components work together to produce a performance-ready condition for active muscle and prolonged contractions.
This supplement also includes Alpha GPC, which increases acetylcholine levels, a critical neurotransmitter for concentration, memory, and muscular contraction.
No one should take Thavage Pre-workout without previous experience with stimulants. In addition, this supplement is a little bit excessive, and you should avoid buying it if you are not a professional or competitive athlete. But, if you want to get an experience by using it, you can consume it without hesitation.
Pros:
Enhances muscle growth.
It increases protein synthesis.
It reduces the desire for sweets.
Increases stamina and strength.
Cons:
It costs a lot.
Not suitable for under-aged people.
Click here to buy Raw CBum Thavage Pre-Workout.
#8 Beyond Raw LT Pre-Workout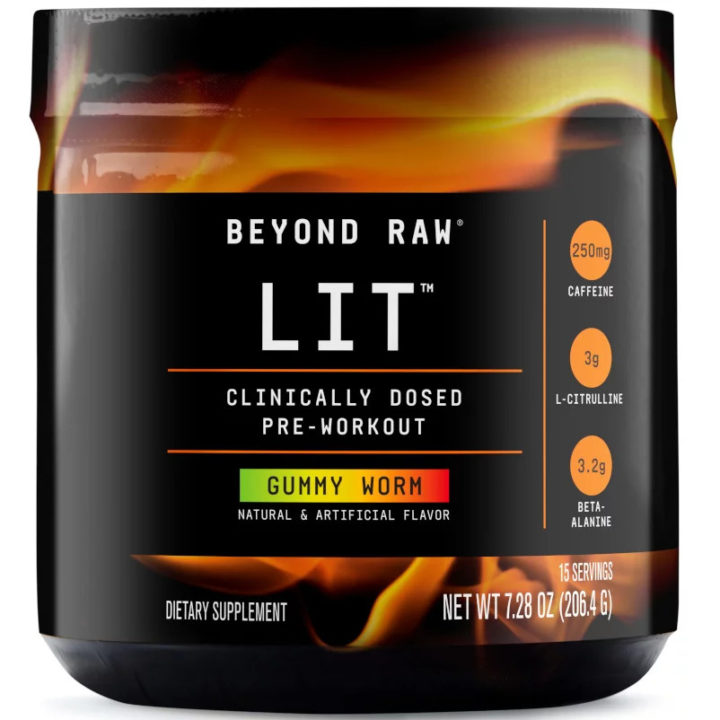 GNC is one of the top manufacturers of health and wellness products worldwide, and they produce the pre-workout supplement Beyond Raw Lit. It successfully delivers the advertised advantages and is produced with substances that have been clinically proven to perform efficiently.
According to Beyond Raw LIT manufacturers, it can enhance energy and attention while encouraging the development of nitric oxide and adrenaline. Although no studies have specifically investigated these claimed advantages, the components in Beyond Raw LIT possess proof to support these statements.
Their formulation contains some of the market's greatest and most reliable substances, including Beta-Alanine, Caffeine, Citrulline, Arginine Silicate Inositol, and Creatine Monohydrate. These components support better blood flow, fat burning, mental clarity and vitality, and increased muscular growth. Beyond Raw LIT supplement is probably safe for most users, but it can have slight negative side effects, including tingling and flushing in the wrists, shoulders, and cheeks if not used properly.
Pros:
It works to increase testosterone.
It can be bought without a prescription.
Tri-protein may help in muscle growth.
Aids in reducing a few of your stress.
Cons:
Price is high.
Unsuitable for the common person.
Click here to buy Beyond Raw LIT Pre-Workout.
#9 Primeval Labs Ape Sh*t Pre-Workout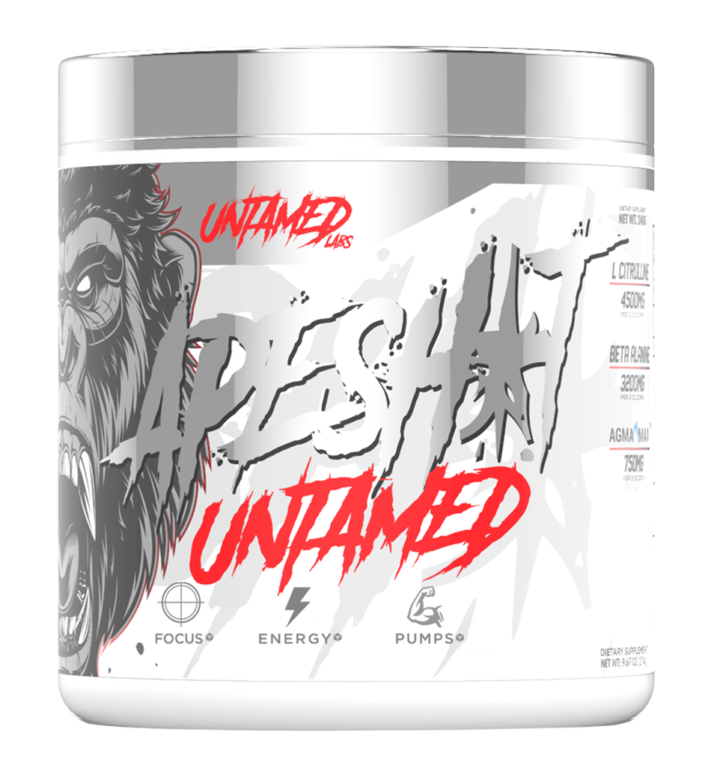 Primeval Labs Ape Sh*t Pre-Workout is the most potent and costly pre-workout supplement the company has ever produced. It was intended for use as a standalone pre-workout supplement or in combination with their Ape Sh*t Max Pump product. As a result, customers may expect a tremendous pump with essential components like 3DPUMP-Breakthrough, Nitrosigine, and S7.
To ensure that the consumer receives a pre-workout powder that is completely side-effect-free, this brand uses various well-known effective substances which have been proven to be scientifically beneficial.
This supplement contains a number of different ingredients, one of the most powerful of which is beta-alanine. This serves to buffer the building of lactic acid, which, if left unchecked, may cause weariness in the muscles. Additionally, it has been shown that consumption of beta-alanine would result in an increase in the user's muscle endurance.
Pros:
It boosted overall strength.
Helps in quickly gaining strength.
It aids in more rapid muscle recovery.
It boosts the creation of protein, nitric oxide, and testosterone.
Cons:
Unsuitable for ongoing use.
Sometimes works slowly.
Click here to buy Primeval Labs Ape Sh*t Pre-Workout.
#10 1st Phorm Project-1 Pre-Workout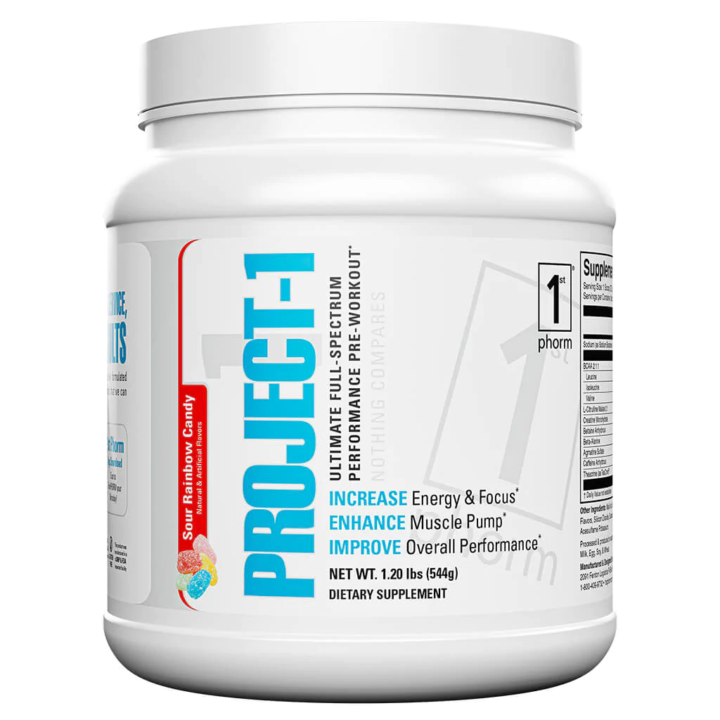 1st Phorm Project-1 is a potent pre-workout supplement that was developed with elite performance in mind. Regardless of the type of physical activity you want to engage in, the complete combination of substances in Project 1 will raise your level of intensity, attention, muscle, effectiveness, and outcomes. They are completely free of calories and carbs, making them suitable for any diet.
A good muscular regeneration process depends on the presence of BCAAs. And this substance is present in considerable quantities in Project 1. In addition to that, when taken before exercise, they improve muscle endurance.
Additionally, Project 1 ensures that enough muscle growth and recovery take place. Since it uses nitric oxide boosters, the blood can reach the muscles more rapidly, allowing the muscles to get the necessary nourishment for their growth.
Pros:
Increases testosterone levels.
Improves performance in sports.
It helps to increase higher muscle mass.
It helps to develop muscles more swiftly.
Cons:
Not suitable for under-aged people.
It is not suitable for continuous use.
Click here to buy the 1st Phorm Project-1 Pre-Workout.
Conclusion
The products we've reviewed are designed to help you maximize your effort in the gym. In addtion to these products, in order to maximize your muscle growth you need to maximize your protein intake (1-2g per pound of body weight per day) and make sure you get enough sleep. These three components of muscle growth are all critical: maximize effort, maximize protein and maximize sleep.