With so many thermogenic pre-workout products on supermarket and health store shelves, the options might seem unlimited. While most pre-workout supplements advertise skin-tearing pumps and enhanced attentiveness, thermogenic products stand out because they include a weight-loss component. A decent pre-workout pill can boost your quality and effectiveness at the gym by providing far more than a little caffeine and a fruity flavor.
What are Thermogenic Pre-Workout Supplements for Weight Loss?
Thermogenic products are meant to enhance your metabolism and improve fat burning, resulting in weight reduction. They contribute to the body's increased heat output. Caffeine and other plant extracts are some of the most popular thermogenic supplement add-ons.
What are Key Ingredients of a Thermogenic Pre-Workout?
Finding the right pre-workout pill may be difficult with so many options, ingredients, effects, and so on. Thermogenic Pre-Workout Supplement ingredients for Weight Loss differ from Regular Pre-Workout Supplement primarily differs in core ingredients. These ingredients are:
Caffeine
Caffeine is a stimulant present in plants, including coffee and tea. Evidence of caffeine derivatives changing metabolism, particularly sympathetic regulation of thermogenesis, is consistent with caffeine's potential to raise exercise time and modify muscle thermogenesis.
Green tea
Caffeine and epigallocatechin gallate, both found in green tea, have thermogenic properties. EGCG boosts these effects by reducing the breakdown of adrenaline, allowing it to have a greater impact. Green tea contains thermogenic characteristics that stimulate fat burning in addition to its caffeine level.
Garcinia Cambogia
Garcinia Cambogia is a tropical fruit with extracts that are commonly utilized in weight-loss products. It includes hydroxy citric acid, a chemical that inhibits the action of the citrate lyase enzyme, which can impede the development of body fat.
Thermogenic Blends
Companies typically blend many thermogenic ingredients in one pill in the hopes of achieving better weight results. These blends have been shown in studies to improve metabolism, especially when used in conjunction with exercise.
Yohimbine
Yohimbine is a thermogenic supplement extracted from the Yohimbe tree. It works by boosting fat metabolism by raising the action of many hormones, including adrenaline and dopamine.
Capsaicin
Red chili pepper's main pungent element is a thermogenic substance that boosts energy expenditure while containing minimal quantities of energy. Capsaicin increases oxygen consumption and body temperature, resulting in an increase in calories burnt. According to studies, ingesting this substance on a daily basis might help you lose weight.
5 Best Thermogenic Pre-Workout Supplements for Weight loss
Thermogenic pre-workout supplements have gained in popularity as they offer to solve two problems in one – an energy boost for more effective workouts, and a friendly assist towards your weight loss goals.
We have researched and reviewed five of the best Thermogenic pre-workout supplements on the market that will help you meet your weight loss goals while also giving you a great pump during your workout.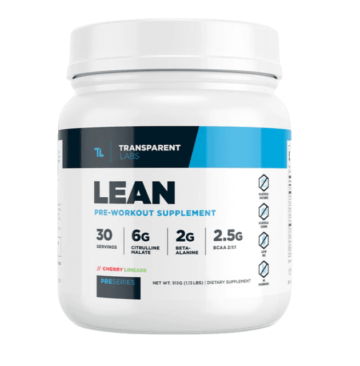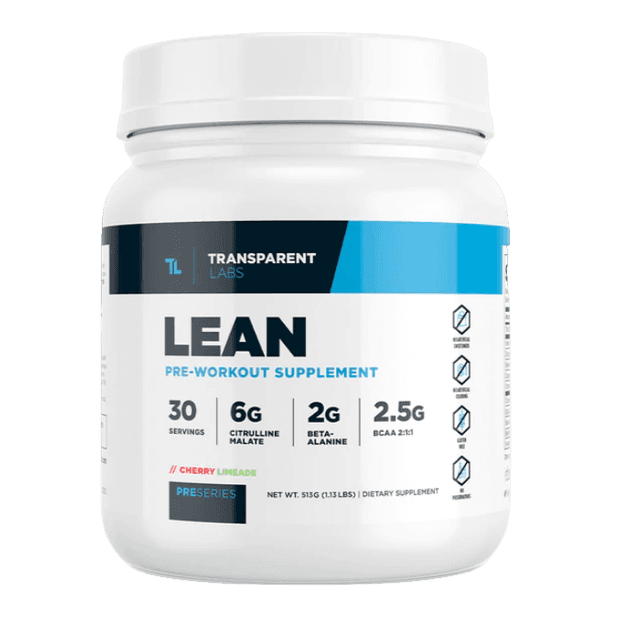 The overall best thermogenic pre-workout for weight loss is the Transparent Lab Lean Pre-Workout Fat Loss Formula. Transparent Labs is an FDA-based supplement firm that is dedicated to producing pre-workout supplements. They do not use proprietary mixes, and while many firms have third-party testing for their supplements, Transparent Labs truly has a solid selection of thermogenic weight reduction pills. Per serving, there are almost 16 grams of evidence-based active ingredients.
This product has a large number of components. They include Thyroid-supporting micronutrients, clean, long-lasting energy throughout the pre-workout slump, and are organically flavored and sweetened with stevia. Transparent Labs suggests starting with half a serving to observe how you react. A serving contains more than a day's worth of iodine, zinc, and chromium, as well as a healthy dosage of selenium and copper. The company also offers the Transparent Labs Bulk pre-workout powders.
Pros
Stimulating the release of neurotransmitters that cause glucose to be released during exercise.
Enhances fat oxidation and energy expenditure.
Great for reducing appetite.
Increases metabolism.
Cons
May take some time to show results.
2. Wrecked Pre-Workout
Wrecked Pre-Workout is a pre-workout supplement that has been revamped recently. It improves endurance and attention without the jitters associated with other pre-workout powders and gives you an energy boost without any negative side effects. It also helps in the development of endurance and strength.
Pros
Can help in the delivery of oxygen to your muscles.
They can aid in the prevention of muscle breakdown.
Dosing is simple.
It can improve in the control of cravings.
Cons
You may gain weight.
Some people may find it too intense.
3. Citadel Tier 1 Pre-Workout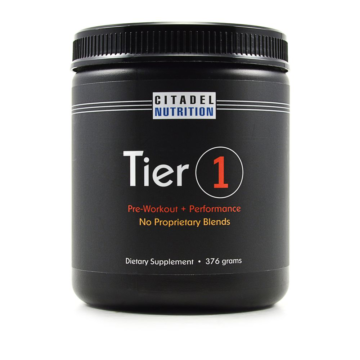 Citadel Tier 1 is a pre-workout supplement that typically has a combination of components that include a good amount of caffeine, beta-alanine, creatine, and nitric oxide boosters, with some other compounds that may be useful based on the company's uniqueness.
It is a pre-workout performance supplement that contains the correct amount of key components. There are no proprietary mixes, so you may taste for yourself. There are no hazardous or prohibited substances. Only safe and proven ingredients are used.
Pros
Enhanced endurance.
Increased fat metabolism.
It boosts energy and concentration.
Prevents fat accumulation.
Cons
Expensive.
Not suitable for long-term use.
4. Gorilla Mode Pre-Workout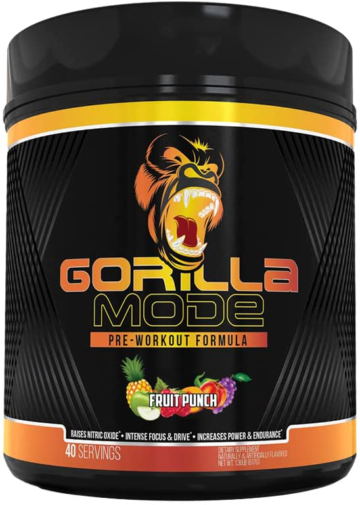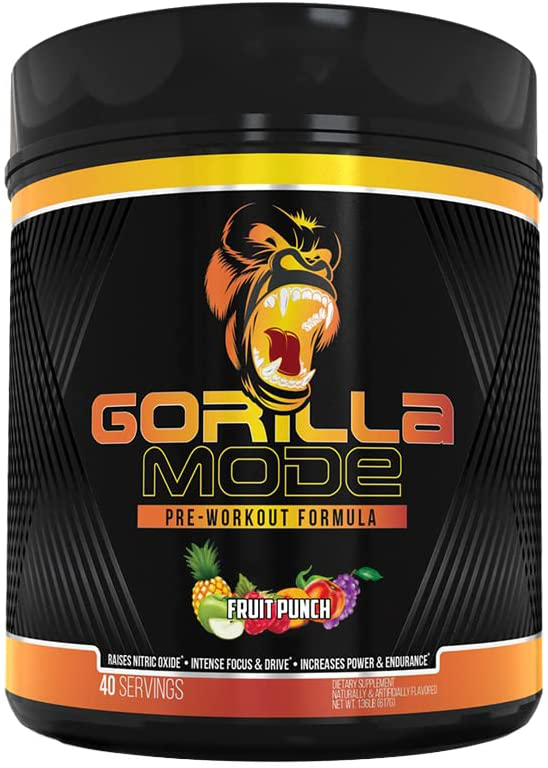 Gorilla Mode pre-workout is a pre-workout supplement that boosts attention and motivation while also increasing endurance and providing a nitric oxide boost. While using this supplement, you will notice an increase in blood flow, which helps transport oxygen to your muscles, as well as a significant rise in energy levels and muscle strength.
Furthermore, by utilizing this non-hormonal pre-workout, you may maximize the pumps and performance of your workout. The active chemicals in Gorilla Mode pre-workout are twelve. Many pre-workout supplements include chemicals that are designed to offer you the greatest energy so you can complete a great exercise.
Pros
No proprietary mixes are used.
Increase your carbohydrate intake.
Manages food cravings.
Acts as a Multiplier.
Cons
Gorilla Mode is not FDA- approved.
Minimally Effective.
5. Jym Pre-Jym Pre-Workout Powder: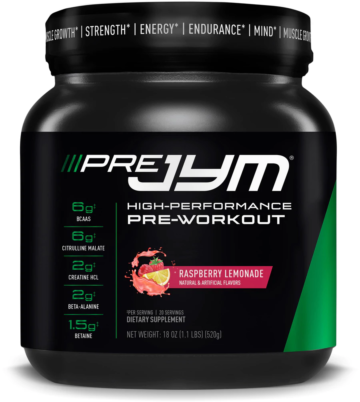 This non-proprietary product has been dubbed the Jym Pre-Jym powerful pre-workout because it boosts energy and strength, allowing you to push through longer, more intense exercises. When it comes to pre-workouts, all of the dosages in Jym Pre-Jym pre-workout supplements are safe, and the only thing that may bother a few people in the lower Tyrosine dosage, which is not the end of the world in the larger scheme of things.
Pros
Consistent power.
Prevents fat absorption.
Makes you feel more energized.
Exhibit noticeable effects in a matter of days.
Cons
Some components are very addicting.
Unwanted side effects for a short term.
---
Frequently Asked Questions
What is a Thermogenic Weight Loss pre-workout supplement?
Pre-workout supplements that are thermogenic are a subgroup of the supplements. They also contain chemicals that stimulate your metabolism.
Which Thermogenic Weight Loss pre-workout is most effective?
Thermogenic products are one of the most powerful fat burner supplements available, and they help you lose weight by increasing several key criteria. It boosts your metabolism and improves your mood.
Is it safe to take pre-workout supplements?
Pre-workout vitamins are often used to boost physical performance and vitality. If you take greater amounts, the only documented negative effect is a scratchy feeling on your skin.
What is the healthiest Thermogenic Weight Loss Product pre-workout for you?
Transparent Labs Lean is meant to help you work out more effectively, especially if you are feeling tired. Also, its prime target is helping lose weight effectively while working out.
Can Thermogenic Weight Loss Products be used on a daily basis?
For healthy people, using a multi-ingredient thermogenic supplement for 30 days appears to be safe.
Are there any Side Effects of a Thermogenic Pre-Workout for Weight Loss?
In rare circumstances, adverse effects might range from mild to severe. Some of the most prevalent adverse effects include:
Anxiety or panic
Upset stomach
Elevated blood pressure
Trouble sleeping, sleeplessness
Restlessness
Headaches
Diarrhea
Elevated heart rate
It is important to monitor your dosage with thermogenic pre-workout supplements (as it is with all supplementation). For example, caffeine is a common element in thermogenic, weight reduction, and energy products. We also consume caffeine on a regular basis via coffee, tea, and other caffeinated beverages.

If you already drink a lot of caffeinated beverages and decide to take a thermogenic supplement with caffeine, you might exceed the maximum recommendation for caffeine consumption and suffer side effects such as insomnia, jitters, anxiety, rapid heart rate, and nausea.
As with all supplementation, if you have a diagnosed medical condition, consult with your doctor before adding any supplementation to your diet.
Conclusion
Thermogenic supplements are promoted as a simple approach to losing weight. Choose any of these, and you will not be disappointed because they may suppress hunger and increase metabolism. They may be more beneficial when used in conjunction with other dietary and activity improvements, but they are not a cure.
Some fat-burning supplements have been related to health issues such as liver damage. Their chemicals might potentially interact with other drugs you are taking. So, when it comes to weight reduction and fat burning, there is no such thing as a miracle that works after only a few uses.
RELATED POSTS