Transparent Labs is a Utah-based dietary supplement company committed to transparency. They have two pre-workouts, Bulk and Lean. As a result, Bulk focused primarily on building muscle. Transparent Labs Bulk, one of the best-selling pre-workout powders in the industry, is a pre-workout supplement that claims to build muscle mass and support testosterone. It mainly works by increasing testosterone.
See where Transparent Labs Bulk shows up in our Best Overall Pre-Workout Ranking.
Bulk is primarily prescribed to improve muscle strength, pumping, endurance, concentration, and energy. Each scoop in size dominates your workout and sets the stage for promoting lean muscle growth. In addition, the Bulk also contains excellent pre-workout ingredients that make this supplement unique.
About Transparent Labs Bulk Pre-Workout
You can find it impossible to find the energy to workout. This is where pre-workout comes in. Transparent Labs has developed a PreSeries bulk pre-workout supplement. This preparatory work is specially designed for gym attendants, athletes, and bodybuilders. It increases concentration, reduces fatigue and muscle fatigue, and improves physical fitness.
Bulk Pre-Workout is available in four flavors: Sour Grape, Blue Raspberry, Strawberry Lemonade, and Tropical Punch. This pre-workout supplement is intended for athletes to take during the bulking phase. It contains Vitamin D3, Boron Citrate, and Zinc, which are ingredients to support testosterone for better performance.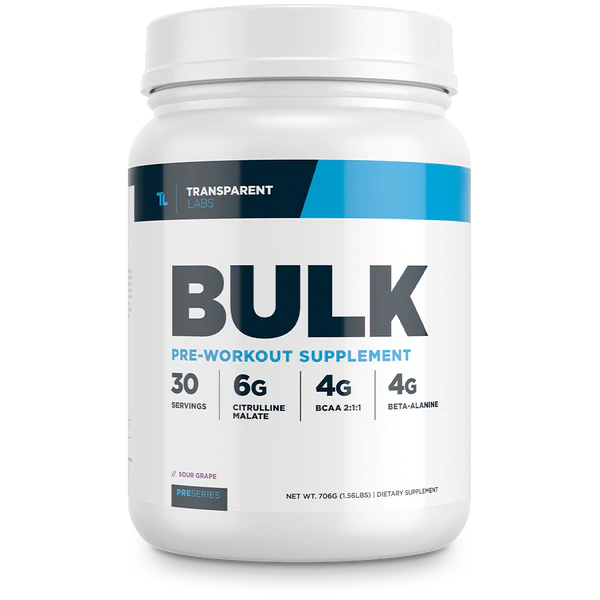 Transparent Labs Bulk: Key Ingredients
Transparent Labs Bulk Pre-Workout contains a total of nineteen active substances. It is vital to note that none of these components include any artificial sweeteners, colors, or hazardous chemicals. Let's have a look at some of its amazing components.
Taurine: It is mainly a natural amino acid that may be found in many foods and used as a dietary supplement. Transparent Labs Bulk contains 1,300 milligrams of taurine. It enhances your athletic performance and lowers fatigue.
Beta-Alanine: It promotes endurance during physical activity. It is one of the most often used substances in sports nutrition. Transparent Labs Bulk contains 4,000 milligrams of Beta-Alanine.
Citrulline Malate: This is one kind of non-essential amino acid produced by the liver and the digestive tract. Very well known for its assistance in increasing endurance and stamina. Transparent Labs Bulk contains 6,000 milligrams of Citrulline Malate.
BCAA: Itpromotes muscular hypertrophy and prevents muscle fatigue. It has the potential to improve exercise performance, avoid muscle injury, and boost energy metabolism. Transparent Labs Bulk contains 4,000 milligrams of BCAA.
BetaPure Betaine Anhydrous: This ingredient is generally used to improve overall athletic performance. It is well known for its amazing benefits of improving endurance during your workout session. Transparent Labs Bulk contains 2500 milligrams of BetaPure Betaine Anhydrous.
L-tyrosine: It is a natural amino acid that may be added to a dietary supplement to boost alertness. It also aids in improving your concentration and provides mental clarity. Transparent Labs Bulk contains 1000 milligrams of L-Tyrosine.
How does Transparent Labs Bulk Pre-Workout affect your routine?
The product has a significant impact on daily life. As a result, the daily workout routine for everyone using the pre-workout is now shorter than before. Transparent Labs Bulk is designed for folks looking to bulk up. People's workout routine was different before taking this. And now it has completely changed due to its surge of energy.
It includes a sufficient amount and diversity of amino acids to aid muscle growth, has no extra additives, and is simple to use. Clinical research has shown that the majority of its components are beneficial. Consuming the Pre-Workout will help you to perform additional repetitions in a shorter amount of time.
Tranparent Labs Bulk Pre-Workout Pros and Cons
If you want to build muscle, Transparent Labs Bulk is your best option. Customers are drawn to this supplement because of its ability to raise testosterone levels along with many other benefits. Let's learn more about the benefits and drawbacks of the product.
Transparent Labs Bulk Pros
Transparent Labs Bulk Cons
Non-GMO and gluten-free.
Clinically tested ingredients.
Moderate caffeine dosage.
Promotes mass building.
Promotes muscle building.
Improves stamina and endurance.
Only available online.
Creatine is not available or very less.
Not recommended to be used by below 18.
It should not be used by pregnant women.
Tranparent Labs Bulk Dosage:
Like all the pre-workouts on the market, this Pre-Workout should be consumed around 20 to 30 minutes before exercising. When beginning use of this dietary supplement for the first time, Transparent Labs suggests combining a half scoop of the powder with 8–15 ounces of water in order to determine one's level of tolerance.
In the future, you'll be able to raise it up to 1 scoop to maximize the output. The container of Transparent Labs Bulk Pre-Workout contains a total of thirty individual servings. In addition to that, you can get the product delivered to your house anywhere around the world.
Transparent Labs Bulk Pre-Workout Side Effects
It is essential to be completely aware of everything that you are taking into your body. You do not need to be concerned about anything when you have Transparent Labs Bulk Pre-Workout. The ingredients that are utilized have been evaluated for their general safety by a third party.
The amount of caffeine that is included in the product is relatively moderate. Therefore, you do not need to be concerned about experiencing feelings of anxiety. The Bulk Pre-Workout supplement sold by Transparent Labs does not include any gluten, GMOs, artificial sweeteners, artificial colors, and any artificial ingredients.
Conclusion
As we've shown in our review of Bulk Pre-workout, using a pre-workout supplement before hitting the gym can have a significant impact on performance. It is an excellent supplement for those who are seeking a powerful combination that aids in muscle growth. Moreover, it is simple to use and has the right amount and diversity of amino acids to aid muscle growth.
Every component that goes into the product is 100% natural and verified by an independent third party. Pre-workout supplements are common at gyms, so if you're looking for a new one or expecting to lose weight or gain muscle, Transparent Labs Bulk Pre-Workout is the solution.