One of the best pre-workout supplements for both experienced athletes and those just beginning their training is the Lean Pre-Workout by Transparent Labs. We'll begin our review of everything that you need to learn about Transparent Labs Lean Pre-Workout with a concise explanation of the product's benefits. This pre-workout is packed with a wide range of advantages and will push you to greater levels in your training.
See where Transparent Labs Lean shows up in our Best Overall Pre-Workout Ranking.
Transparent Labs Lean Pre-Workout – Overview
Lean Pre-Workout is a supplement that is developed by Transparent Labs and is geared toward the needs of athletes. The firm, which goes by the label "Transparent," distinguishes itself from competitors by listing all of the components that went into the product, and you can also find details on all of the product's certifications on its official website.
It is an amazing supplement that is used just before a workout to offer the highest possible levels of stamina and endurance along with a surge of energy. This pre-workout supplement was developed with the goal of assisting those who are interested in limiting the number of calories they consume while also providing assistance with their exercise.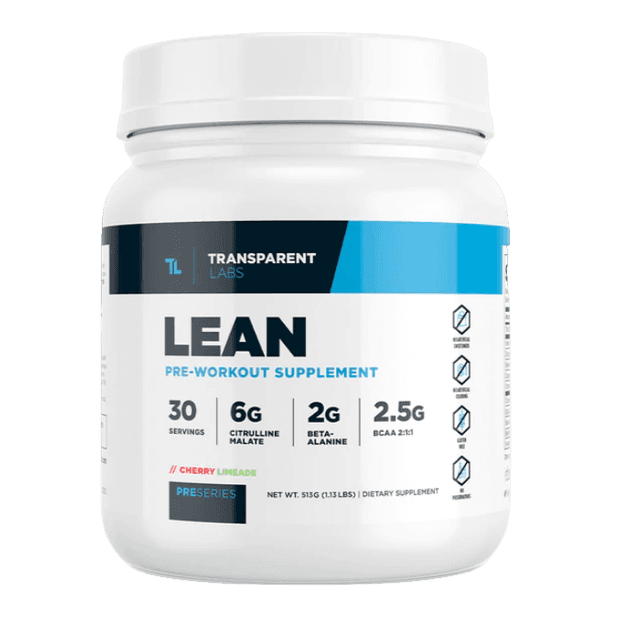 Transparent Labs Lean: Key Ingredients
The ingredients in Lean pre-workout have been carefully chosen and blended to provide the most potent pre-workout available. It was made very evident by the testing certifications that the ingredient list is not fake and that all of the ingredients provided are genuine and accurate. Let's take a look at some of the ingredients that make this pre-workout very effective.
Beta-Alanine: Pre-workout supplements often include the amino acid beta-alanine. Researchers have found that beta-alanine supplementation increases muscle carnosine levels via increasing carnosine synthesis to improve lactic acid buffering. Additionally, it increases the levels of carnosine in the cells, which helps slow the progression of fatigue.
Citrulline Malate: This is a known vasodilator that can assist in delaying the point at which exhaustion sets in during a workout. Several studies have indicated that it can help build stamina, increase endurance, and promote muscle recovery.
L-Theanine: L-theanine is an incredible ingredient that can be found in pre-workout supplements. Studies that support the capacity of theanine to enhance motivation and productivity also have demonstrated that theanine could help generate a sense of calmness.
Caffeine: Consuming caffeine on a daily basis is something that the vast majority of people do. However, there are a surprising number of advantages to be gained by consuming it. Caffeine not only gives you energy but also increases mental clarity and sharpens attention, which may help you respond more quickly and improve your overall productivity as you drive through hard repetitions.
N-Acetyl L-Tyrosine: This is yet another element that is often included in supplements, and it has been shown to boost mental concentration as well as mental endurance. It assists the body in the synthesis of proteins, as well as enzymes, thyroid hormones, and other important substances.
How does Transparent Labs Lean Pre-Workout affect your routine?
When attempting to get an understanding of how the Transparent Labs Lean Pre-Workout may possibly function, checking the ingredient list is an excellent place to begin. This product is incredible, and it is made entirely from natural ingredients. As a result, you do not need to be concerned that the product will interfere with your daily routine.
Transparent Labs Lean Pre-Workout Pros and Cons
When it comes to pre-workout supplements, Transparent Labs Lean is consistently ranked as one of the top 10 choices among bodybuilders. The product's many enthusiastic reviews from customers are largely responsible for its recent surge in popularity. Before we go any further, let's have a look at a few of the benefits and drawbacks associated with this choice.
Transparent Labs Lean Pros
Transparent Labs Lean Cons
Low Carbohydrate.
Natural Ingredients.
Improves endurance.
Improves stamina.
Promote mental clarity.
180g of Caffeine is insufficient for hardcore athletes.
Only available in official stores.
Not suitable for pregnant women.
Transparent Labs Lean Dosage:
Taking one scoop of Transparent Labs Lean Pre-Workout 20-40 minutes before your training session is recommended. To prevent undesirable side effects, do not take extra scoops during the day. The product is intended to be used before training or going to the gym.
Although the components of this product have excellent synergy with those of other bodybuilding supplements and it is acceptable to use in combination with other supplements. However, you should avoid mixing it with other supplements together.
Transparent Labs Lean Pre-Workout Side Effects
There are no synthetic components to be found in Transparent Labs Lean Pre-Workout, which makes it 100% natural, exceptionally well-dosed, and independently evaluated. When you buy a product from Transparent Labs, you are guaranteed to get complete transparency with regard to that product. As a result, you do not need to be concerned about experiencing any adverse effects as a result of using the product.
However, similar to other dietary supplements, it can cause you to have an adverse response depending on the circumstances of your condition and the way you use it. If you are having any issues, you should see a medical professional as soon as possible.
Conclusion
If you want to preserve some muscle mass while decreasing calories, you have to get rid of that persistent excess body fat. Getting benefits from your exercises and igniting them with the help of Transparent Labs Lean Pre-Workout is the best solution.
This is a genuinely outstanding product when seen from a variety of perspectives. It has a wide range of ingredients, each of which contributes a unique set of advantages. It is an outstanding pre-workout supplement for everyone wanting to gain muscles while also losing fat.