'Shifted gives you keys to unlock your potential in and out of the gym'. It is a lofty claim, but do Shifted Supplements Pre-Workouts live up to the hype?
See where Shifted Pre-Workout shows up in our Best Overall Pre-Workout Ranking.
To separate fact from fiction, we assessed whether Shifted Pre-Workout delivers the goods and whether you should should 'shift' over to them!
Over a few weeks, we tested the Shifted range to establish whether the company had finally brought some innovation to the supplements sector. Here's what we discovered.
About Shifted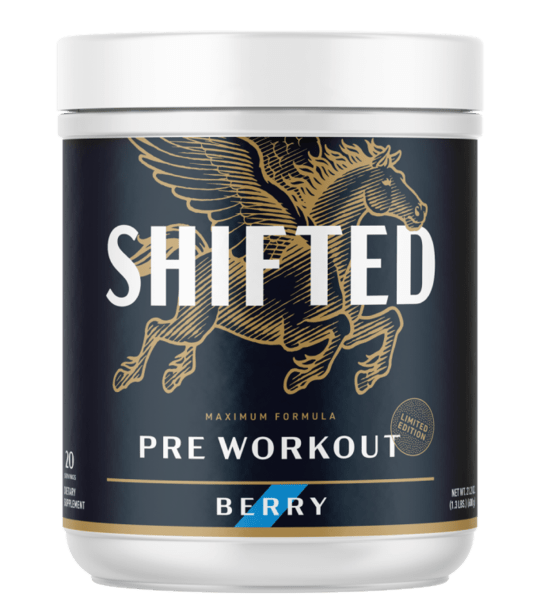 The Shifted team designed their Pre-Workout supplements to ensure that the time people spent in the gym made an impact.
They questioned the need to carry multiple products in a gym bag to get everything needed to maximise the results delivered by working out.
Shifted focused on developing products that help users push through fatigue and set new personal bests without tiring themselves out for the rest of the day.
The company linked up with a leading Exercise Physiology professional to develop the perfect formula for pre-workout supplements.
After testing several ingredient combinations, they came up with a scientifically proven blend that delivers consistent results.
Introducing Shifted Pre-Workout
Shifted offers two pre-workout products – Maximum and Premium – each of which claims to 'give you the energy to power through your workout and beyond'.
Maximum is available in Berry flavour, while Premium comes in Berry and Tropical, and it's fair to say there is plenty to like about the products.
Using a well-researched blend of ingredients, Shifted Pre-Workout is one of the best tasting performance-enhancing products on the market.
The company's commitment to transparent manufacturing shines through, bringing some honesty to a sector that often suffers from questionable marketing tactics.
Shifted Pre-Workout Pros & Cons
We spent a few weeks testing Shifted Pre-Workout to determine how it stacked up against the competition. Here's a quick summary of the pros and cons.
| | |
| --- | --- |
| PROS | CONS |
| | |
| Great taste. | Beta-Alanine dosage may not suit everyone. |
| Easy to digest. | Only two flavours are available. |
| Well-balanced ingredients. | |
| Minimal Beta-Alanine tingles. | |
| It ticks all the right pre-workout mood boxes. | |
Visit the Shifted website for more information.
Shifted Premium vs Shifted Maximum
Shifted Premium is designed for everyday athletes who undertake resistance training, HIIT workouts, spin classes and yoga.
While missing some of the ingredients contained in Maximum, it still delivers performance boosts that will take your fitness activities to another level.
Shifted Maximum is designed for athletes who want a scientifically proven way to get the utmost benefit from their pre-workout supplements.
The key functional ingredient levels are turned all the way up – think of it in terms of premium unleaded petrol against standard unleaded for vehicles.
Shifted Pre-Workout Ingredients
In simple terms, Shifted Premium is designed for all-round use, while Shifted Maximum is aimed at people who push themselves to the limit. The ingredients are as follows:
Same Doses
2.5 g of Betaine Anhydrous
1 g of Beet Root Extract
250 mg of Caffeine Anhydrous
100 mg of Rhodiola Rosea
150 mg of L-Theanine
100 mg of Pink Himalayan Sea Salt
Higher Doses
8 g of L-Citrulline (2 more grams than Premium)
5 g of Creatine Monohydrate (3 g more than Premium)
3 g of Taurine (2 g more than Premium)
2.5 g of Beta-Alanine (.5 g more than Premium)
2 g L-Tyrosine (1 g more than Premium)
300 mg of Alpha GPC (150 mg more than Premium)
248 mg of Potassium (207 mg more than Premium)
Exclusive Ingredients
Niacin
B6
B12
Red Spinach Extract
zumXR Delayed-Release Caffeine
ElevATP (Ancient Peat and Apple Fruit Extract)
Co-Enzyme Q10 (CoQ10)
Shifted Pre-Workout in Action
We tested Shifted Pre-Workout over a few weeks and struggled to find too many negatives with the products.
They boosted our mood, giving us the feeling that we could accomplish our fitness goals without any noticeable post-workout crash.
The powder mixes exceptionally well and leaves minimal residue – a vital factor for anyone who hates the nasty clumps found in other products.
Shifted is easy to digest and does not produce any of the unpleasant bowel movements caused by several other pre-workout formulas.
Results in terms of strength and mass gains were clear when compared to a similar period without using any supplements.
We felt more energetic during our workouts and were able to continue with our days as normal after leaving the gym.
Shifted hits all the right notes regarding energy, concentration, focus, mood-boosting, endurance and anti-fatigue – elements that other single products struggle to deliver.
Providing these benefits in one product makes Shifted Pre-Workout great value for money, although concessions have been made in some areas to achieve this.
Shifted's decision to reel back the dosage of Beta-Alanine in the Maximum formula will undoubtedly not be to everyone's liking.
This was designed to focus on delivering an overall positive experience rather than including the optimal effective dose of 3-6 g of Beta-Alanine.
One of the main issues with taking excessive amounts of Beta-Alanine is paraesthesia, a strange sensation typically described as a 'tingling of the skin'.
However, with Shifted Maximum blowing away its competitors for the maximum scientific effectiveness of the rest of its dosing, it is easy to gloss over this minor flaw.
Shifted Pre-Workout – The Final Word
If you are searching for pre-workout products that deliver scientifically-proven fitness benefits, look no further than Shifted Premium and Shifted Maximum.
Unlike many other products on the market, they taste pleasant, are easy to digest and have no nasty toilet-related side effects after using them.
The Premium formula is a great all-rounder, delivering tangible results for people who want to get the most out of daily workouts.
Shifted Maximum takes things into another stratosphere – put simply, no other single pre-workout product matches up.
While the reeling back of Beta-Alanine will frustrate those who enjoy the 'tingle' the optimum dosage provides, it would be churlish to argue this detracts too greatly from the product.
With both Premium and Maximum benefiting from being extremely competitively priced, you would be hard-pushed to find anything to beat either product.